Testingfg of Ads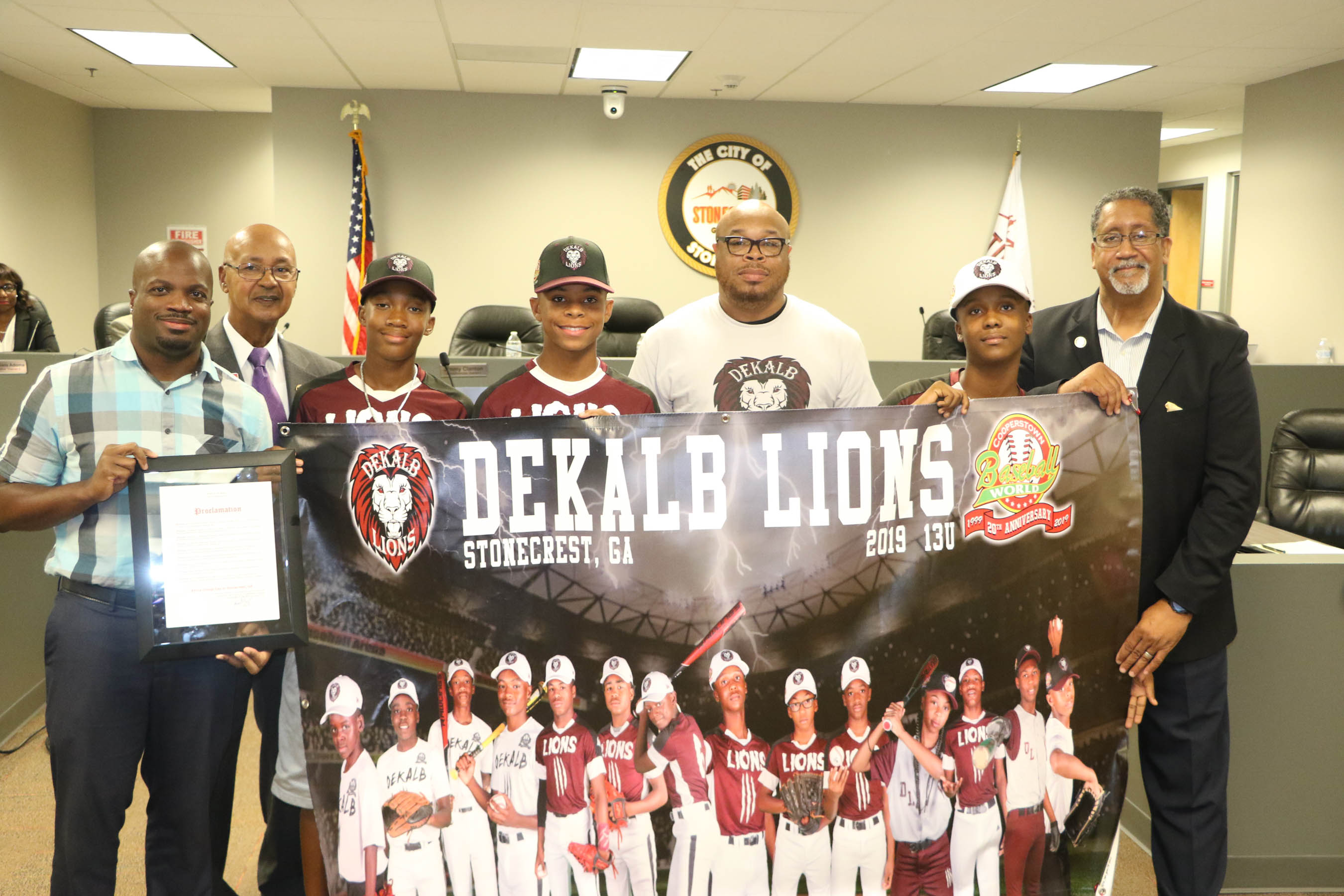 Pictured are Head Coach Marius Nolden, Council member George Turner, team members Skylon Jackson, Jaden Johnson and Daelyn House, Assistant Coach Anthony Jackson and Mayor Jason Lary.
By Valerie J. Morgan
Stonecrest city officials honored the DeKalb Lions, presenting members of the team and their coaches with a proclamation declaring Aug. 12 as DeKalb Lions Day.  The Lions made history in July when they became the first African-American youth baseball team from the United States and from Georgia in 11 years to compete in the 2019 Cooperstown Baseball World "Hall of Fame" Tournament.
Council member George Turner, who joined Mayor Jason Lary in making the presentation, expressed his pride for the team.
"If you know anything about baseball, you know that getting to Cooperstown is the ultimate honor for any baseball player….Just being invited to play in this tournament made history for DeKalb County," Turner said.
Turner also praised Salem Middle School, where many of the team members were students. He said that last year, Salem's Mighty Lions Symphonic Band performed at Carnegie Hall. In November, the Martin Luther King, Jr. High1's Loins Marching Band, which includes some Salem Middle School Lions, will perform in the Macy's Thanksgiving Day parade.
Coach Marius Nolden said the tournament provided a life-changing experience for the students and that the DeKalb Lions, which included one female, represented DeKalb County well in New York.
"It's a big accomplishment because every kid's dream is to go to Cooperstown. It's every kid's dream to experience the Baseball Hall of Fame," said Coach Marius Nolden. "Out of 16 teams, we placed fourth."