Testingfg of Ads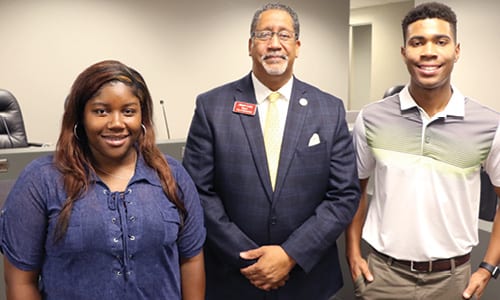 Stonecrest City Hall staffers are training the next generation, offering summer internships to two local college students.  The intern initiative is offered through Jacob's, a worldwide engineering company that is engaged in a public-private partnership to staff and run the city's operations.  Jacob's recently purchased CH2M.  Thirteen interns are a part of a four-city program, which also includes the Jacob's regional headquarters located in Sandy Springs.
This summer marks the first time that the year-old city has had interns.  Stonecrest has two interns who were selected by Jacob's: Courtney McGinty, a rising sophomore  at East Georgia State College and Kolby Terrelonge, a rising junior at Georgia State University.   
"My experience so far at the city of Stonecrest has been great. I have learned a lot about the various departments.  I am really excited about learning more and even offering some of my expertise," said Terrelonge, a finance major.
McGinty and Terrelonge are working with each city department, gaining first-hand experience on everything from building permits and land development to code enforcement.  Weekly "Intern Days" are held at various sites so that the participants can share their experiences and knowledge. 
"The knowledge I am gaining here will be applied to my future endeavors, whether they are in business or maybe even political, McGinty said.  The cities of Johns Creek, Tucker, and Peachtree Corners are also participating in Jacob's program.