Testingfg of Ads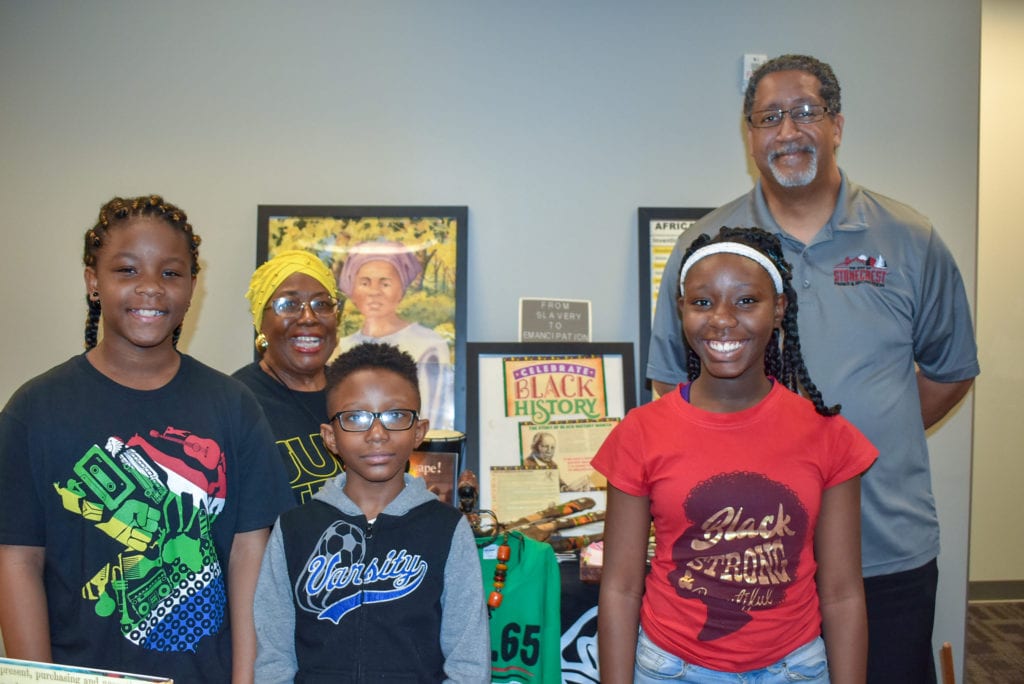 Mayor Jason Lary greets Shirley Smith, who visited the exhibit at City Hall with her grandchildren and Kayna Sanders,
DeShawna Smith.
The City of Stonecrest celebrated Juneteenth, the national commemoration of the June 19, 1865 announcement of the last slaves freed in the U.S., by hosting a black history exhibit at City Hall.
The exhibit, which was set up in the Martin Luther King, Jr. High School Conference Room, featured local black history and history makers, including pictures and artifacts from the Flat Rock community, one of the oldest African-American communities in DeKalb County.
Mayor Jason Lary said the Flat Rock community and the Flat Rock Archives, which are located within the city of Stonecrest, are considered historical treasures, attracting visitors from around the world. The Flat Rock Archives is the only African-American archival facility in DeKalb.
"This historical treasure makes us unique to both DeKalb County and the state.  Stonecrest is the only city in DeKalb with such a historical African-American tribute," said Lary.  "Flat Rock sits in the Arabia Mountain National Heritage Area, another jewel that makes us a world-class city."
The Flat Rock community began as an agricultural community bordered by three slave-holding farms: The South, Lyon and Johnson farms. Following the Civil War, the freed slaves remained in the area and created churches, schools and civic organizations. Actor and comedian Chris Tucker, and Warren Moon, former NFL quarterback, are descendants of the Flat Rock community.
The Flat Rock Archives, 3979 Crossvale Road, Stonecrest, is located within the Arabia Mountain National Heritage Area. The area was designated by Congress to recognize the unique history, environment and culture of the surrounding communities.
For more information about the Flat Rock Archives: 770-797-5625.