Testingfg of Ads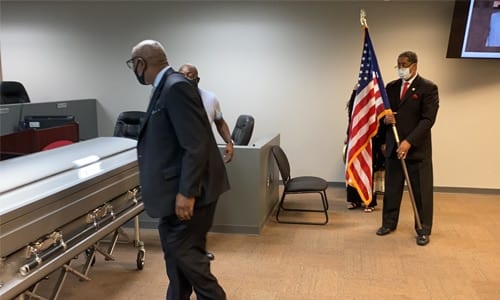 City of Stonecrest bids farewell to Dr. Noel Battle at repose
Photos By Glenn L. Morgan
Today (Aug. 7), the Rev. Dr. Noel Battle, a civil rights activist, entrepreneur, educator and pastor, was brought to the City of Stonecrest to lie in repose at City Hall.
Dr. Battle Battle died on July 28 at Emory St. Joseph Hospital after an extended illness, according to his wife of 62 years, Martha Battle.  Dr. Battle was 87.
Dr. Battle's death follows that of two Atlanta civil rights giants: The Rev. C.T. Vivian, and Congressman John Lewis, who both died on July 17.
Stonecrest Mayor Jason Lary received members of Dr. Battle's family at the repose. The mayor said he has known the family for years and considered it an honor to participate in the homegoing celebration for a community servant who dedicated his life to helping others. Dr. Battle participated in Atlanta's Woolworth lunch counter sit-in in 1960 and supported the Southern Christian Leadership Conference with financial contributions, among other civil rights endeavors.  Dr. Battle is the first person honored to lie in state at Stonecrest City Hall.
The farewell at City Hall was one of two held this week for Dr. Battle. A wake was held on Thursday, Aug. 7, at Dr. Battle's First Comfort Missionary Baptist Church, which he founded in Decatur, Georgia in 1987.
A private funeral for family and invited guests will be held on Saturday, Aug. 8, 11 a.m., at First Comfort Missionary Baptist Church.  Stocks Funeral Home Kirkwood Chapel is handling the arrangements and will live stream the homegoing celebration at https://www.stocksfuneralhome.com.
Mayor Lary will present proclamations on behalf of the city and Congressman Hank Johnson at the funeral. Dr. Battle will be buried at Greenwood Cemeteries.