Testingfg of Ads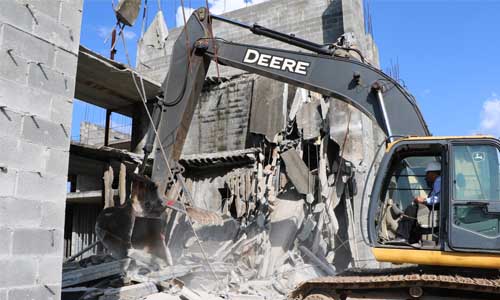 Demolition began on the "Cinder Block Inn," an eyesore so nicknamed after standing nearly 10 years unfinished along I-20 East at Turner Hill Road near the Mall at Stonecrest.
When Zenon & Zenon Contractors, Inc. of Stockbridge arrived around 4 p.m. on Oct. 11, Mayor Jason Lary put on a hard hat and climbed into the excavator as if it were a giant Tonka truck. He didn't hesitate to shift the gears to help bring down the half-built structure.
Lary said the demolition fulfills a 2016 campaign promise he made to rid the city of the abandoned hotel, which had stood among four completed hotels for years.
"We said we would do this. We said we would bring this down to the ground and we're here today to do that," said Lary, who was elected mayor in March 2017, about five months after residents overwhelmingly passed a referendum to create the new city.
The mayor and staff said they worked diligently with property owners to ensure that the unfinished hotel was demolished. The hotel construction was abandoned in 2008, leaving a shell of cinder block, wires, and weeds. Community members complained to county officials for years but to no avail.
"The process was about working with people and letting them know that we are emphatic about our community," Lary said.
The city's Code Enforcement Manager, Al Ferrell, said he sent the owners of the property a letter of violation recently. The letter encouraged compliance with the city's abandoned building ordinances and gave the owners 90 days to comply. Ferrell said shortly after speaking with the owners, he learned about an application for demolition and a schedule to comply with the ordinance.
The demolition is expected to take three to four days, the excavator's owner, Orlando Zenon, said.
Lary said city officials are working with developers Rupa and Yash Patel on a future hotel project. Details of the new development have not been released.