Testingfg of Ads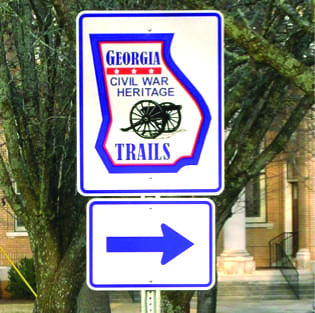 The City of Lithonia will soon get two roadway markers so tourists and others will know of its role in the Civil War. And State Rep. Doreen Carter says she's happy she'll be able to walk about a block from her house and see one of the signs that designate Lithonia as part of the Georgia Civil War Heritage Trails.
"This is really exciting for me. We've heard stories that Sherman's troops camped in my backyard," said Carter.  "It will provide a great economic boost to the areas with the increase in history tours throughout the state. It puts Lithonia on the map and it will help benefit merchants in our downtown area as people explore historic sites."
General Tecumseh William Sherman's infamous "March to the Sea" campaign wound its way through captured Atlanta areas, including Lithonia, in 1864. The troops burned enemy military targets, buildings, civilian homes and other property as they made their way to the Savannah port.
The Georgia Department of Transportation is funding the trails, which are part of a web of driving routes across the state. Georgia's trails are part of a larger network, the Civil War Heritage Trails, which also includes driving routes throughout South Carolina and Alabama.
Carter was instrumental in connecting Lithonia Mayor Deborah Jackson with officials of the Georgia Civil War Heritage Trails. The Lithonia City Council approved the right-of-way for the two markers at its May 2 meeting.