Testingfg of Ads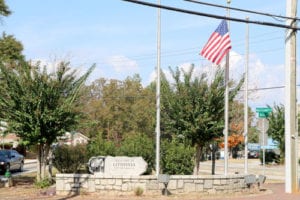 The city of Lithonia's name is now etched on the National Register of Historic Places, officials have announced.
Lithonia was placed on the nation's list of places worthy of preservation and recognition on Sept. 19, the Georgia Department of Natural Resources said in a recent news release.
Officials say the new designation means the Southeast DeKalb County city is now eligible for economic incentives like those utilized in the development of Atlanta's Ponce City Market.
"We are looking forward to seeing new ventures attracted to the city via the tax incentives that are available to support historic preservation projects in the districts as a result of this listing," Stephanie Cherry-Farmer, program manager for the National Register program for Georgia.
Lithonia, incorporated in 1856, turned 160 years old this year. The name Lithonia is derived from a combination of Greek words: Lithos meaning rock and Onia meaning place, in reference to the granite-gneiss abundant in the city and surrounding area.
The Arabia Mountain Heritage Area Alliance, Inc. worked with the city, the Georgia State University Heritage Preservation Program and the Atlanta Regional Commission to prepare the nomination. More than 350 historic buildings were documented as part of the project. The historic district encompasses nearly all of incorporated Lithonia including the city's central commercial core and Main Street, three cemeteries, several parks, the ruins of the Bruce St. School (1938), an early African-American educational institution; Lithonia First United Methodist Church (originally Lithonia M.E. Church, Antioch Baptist Church, Lithonia Presbyterian Church and The Union Missionary Church (all in 1911); the Lithonia Woman's Club (1926); and the site of DeKalb County's first lending library.
Many of the buildings along Main Street were built between 1970 and 1930 and feature elements of locally quarried "tidal grey" granite gneiss.
Securing the historic recognition on the National Register has been repeatedly identified in the city's public planning processes as a driver for community development.
"Economic studies have shown time and again, the most successful small cities are those that protect their historic places. This designation is one in a series of steps to invigorate our downtown by respecting the distinctive, walkable core of Lithonia and draw Arabia Mountain National Heritage Area visitors to city," said Mayor Deborah A. Jackson.