Testingfg of Ads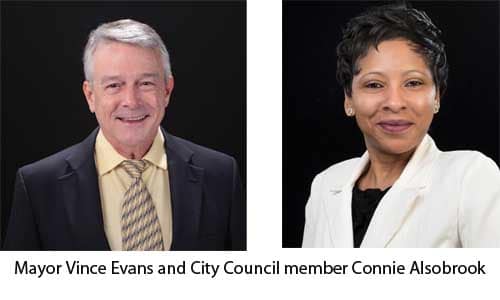 CONYERS—Mayor Vince Evans and the Conyers City Council will designate and dedicate a stretch of Milstead Avenue in the city limits as Dr. Martin Luther King, Jr. Memorial Avenue on Dr. King's birthday, Friday, Jan. 15, 2021.
Discussion has been ongoing for some time about memorializing Dr. King's legacy in Conyers and at last year's City Council retreat, the council assigned the task to Council Member Connie Alsobrook and members of the city employee-led Connect Committee. The Conyers Connect Committee was created in 2020 to foster the city's successful ability for its employees to work collaboratively as a team despite physical, cultural, and personal differences.
After a series of meetings and discussions, the Connect Committee proposed memorializing a section of Milstead Avenue. Rockdale County Chairman Oz Nesbitt and the Rockdale County Board of Commissioners granted the city permission for the installation of signage in unincorporated areas of the county along Milstead Avenue. At its Dec. 16 meeting, the Conyers City Council approved a resolution dedicating Milstead Avenue beginning at the intersection of Georgia Highway 20 NE heading southwest until it terminates at Main Street NE in memory of the late civil rights activist.
"Dr. King's amazing legacy is still being realized and perhaps never more so than at this point in our history," said Evans. "We are proud to have signs bearing his name advocating for nonviolent social change and justice and equality among all people."
Four signs denoting the memorialization are being installed this week along the stretch of Milstead Avenue.
Evans and council members will gather on Jan. 15, 1:30 p.m., at the Walgreen's pharmacy near one of the signs installed at the intersection of Milstead Avenue and Georgia Highway 20 for the dedication.