Testingfg of Ads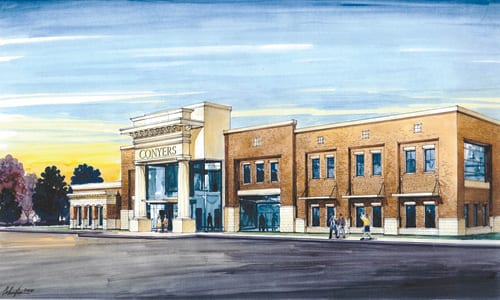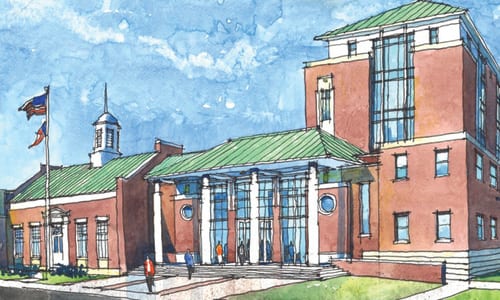 Officials in the city of Conyers and Rockdale County have scheduled a series of meetings to try and convince voters to pass separate bond referendums to fund new government buildings and upgrades officials say are sorely needed.
Voters who live in the City of Conyers will see two bond referendums on their ballot when they go to the polls on May 22:
• City residents will be asked to fund $13 million in projects, which include the construction of a $9 million City Hall on O'Kelley Street; $1 million parking facility at City Hall; and a $3 million Police Department Retrofit and Municipal Courtroom.
Conyers residents also will be asked to invest an additional $139.5 million in Rockdale County for a new county courthouse, a renovated administration center and a parking garage. An amphitheater that was proposed has been scrapped and replaced with greenspace county officials say could be used for events and community activities.
The approval of Conyers $13 million bond would result in a property tax increase of approximately $71 annually on top of what property owners are paying for a $100,000 property bill.
Using the same example of a $100,000 home, approval of the county's $139.5 million bond would result in an increase of about $150 annually on top of what property owners are paying.
Residents who live in unincorporated Rockdale—outside of the city of Conyers—would only see the $139.5 million bond referendum on the ballot.
Officials in both Conyers and Rockdale acknowledge they have their work cut out for them in educating the public and convincing voters to approve the referendums.
"We've got to make sure that voters understand what we're trying to do for the city. We hope we can convince them that it will be money well spent," said Mayor Vince Evans. "The city needs the projects because we've just run out of space."
Evans said currently, the city holds Municipal Court in City Council chambers and officials are concerned about security. City Manager Tony Lucas has said security at the existing chambers where Municipal Court is held is not in compliance with federal security guidelines.
"It's a disaster waiting to happen," Evans said. "We've done the best we could for as long as we could."
The planned new City Hall, which would centralize and consolidate all services and departments, would replace the current City Hall, which was established in 1965 and served citizens for 23 years before the expansion was required in 1988. In the 30 years since the last expansion, the city's population has doubled, as has the number of employees, causing departments to become overcrowded with no room for growth and limited storage, officials said.
"When voters go to the polls on May 22, casting a "yes" vote for this referendum is a "yes" vote for investing in the future of Conyers," said Evans. "This will allow for the expansion of public safety while meeting federal mandates for enhanced security services pertaining to a dedicated courtroom. Research shows that by relocating a city hall closer to its downtown area, the economic impact on the city and property values is tremendous. Plus, with all of the services centrally located, citizens can more effectively handle their business at city hall and easily access Olde Town."
A series of meetings will be held at Conyers City Council Chambers, 1194 Scott Street (second floor of the Conyers Police Department), to allow the public to view the renderings for the proposed City Hall and ask questions about the plans. Public meetings are scheduled on April 10, April 26, and May 10, 5 to 7 p.m.
The meetings will be an open house format with renderings on display. Officials and staff will be in attendance to answer questions. Tours of the existing facilities also will be offered. In addition to the meetings, renderings also will be on the city' website and on display at Conyers City Hall, 1184 Scott Street, Monday-Friday, 8 a.m.-5 p.m., for those unable to attend a public meeting.
"The city has an excellent track record of being practical in its planning, fiscally responsible, and conservative. In fact, the city has not had the need to ask for a bond in more than 20 years," said Evans. "When you do the math, an investment of less than $6 a month to better serve our community for the next 30 years—it's worth it."
Citizens can learn more about the county's proposed bond referendum at upcoming forums. Rockdale County government, which held bond referendum forums on March 20 and March 29, will host two more public forums:
April 17, 6–7 p.m., Shoal Creek Elementary, 1300 McWilliams Road S.W., Conyers
May 15, 6–7 p.m., Honey Creek Elementary, 700 Honey Creek Road S.E., Conyers
Post 1 County Commissioner Sherri Washington is urging residents to take a guided tour of the Rockdale Courthouse to get a feel for why a new county courthouse is needed. She said the county has outgrown the cramped quarters.
Rockdale Chairman Oz Nesbitt is also pitching the county's projects in a video. County officials have scheduled guided tours of the Rockdale County Courthouse, which is located at 922 Court St., Conyers:
April 20, 9 to 10 a.m. and 10 to 11 a.m.
May 9, 6 to 7 p.m.
For more information about Rockdale County's bond forums and guided tours, contact Jorge Diez at 770-278-7056 or jorge.diez@rockdalecountyga.gov.
For more information about the City of Conyers bond forums, contact the city manager's office at 770-929-4226 or Conyers City Hall at 770-483-4411.