Testingfg of Ads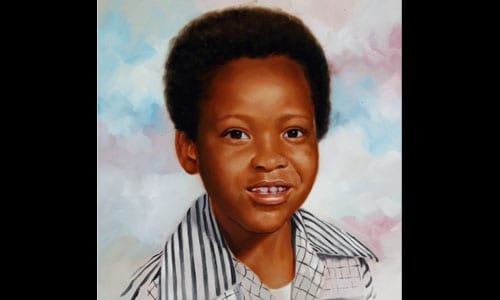 An exhibition memorializing the victims of the "Atlanta Child Murders" was unveiled during an opening reception on Jan. 16 at Atlanta City Hall, 55 Trinity Ave. S.W.
Atlanta Mayor Keisha Lance Bottoms' Office of Cultural Affairs and the Atlanta Children's Memorial Taskforce are hosting the  "Atlanta Children's Memorial Portraits" exhibition through Feb. 6 at City Hall, officials said.
In addition to selected artwork from more than 100 submissions by Atlanta visual artists who memorialized the victims of the child murders, portraits by Dwayne Mitchell, the winning artist, will be displayed in atriums at Atlanta's Hartsfield-Jackson International Airport May 28 – July 22, 2020.
At least 28 children, adolescents and adults were slain during the series of murders that took place in Atlanta from July 1979 to May 1981.Wayne Williams, who was 23 at the time of the last murder, was arrested, tried, and convicted of two of the adult murders and sentenced to two consecutive life terms. Police subsequently have attributed a number of the child murders to Williams, although he has not been charged in any of those cases, authorities said.
The exhibitions are the result of the Atlanta Children's Memorial Task Force, which was established by Mayor Bottoms in 2019. The task force, comprised of mayoral appointees from the community, wascharged with determining an appropriate acknowledgment of the lives cut short during the Atlanta Child Murders. The Atlanta Children's Memorial Portraits was one of two projects determined by the task force to acknowledge the memory of the lives lost. The second project, the Atlanta Children's Memorial Eternal Flame, is currently under review and will be installed on the grounds of Atlanta City Hall.