Testingfg of Ads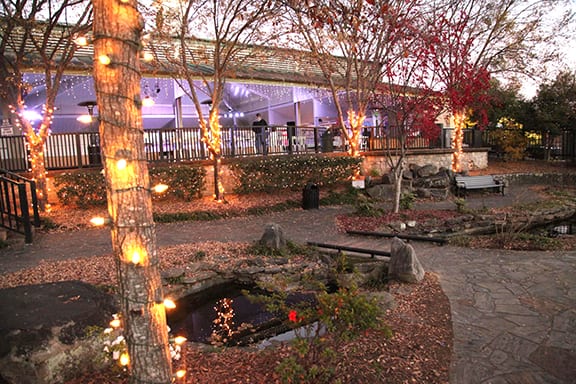 The official kickoff to Conyers' holiday season will take place  this weekend with the Olde Town Christmas Party and the 19th Annual Conyers Christmas Parade.
Sponsored by the city of Conyers, the Olde Town Christmas Party takes place in the streets of the historic business district on Nov. 30, 5-8 p.m. Families are encouraged to enjoy free visits with Santa in the Conyers Depot/Welcome Center at 901 Railroad Street. Photo packages will be available for purchase and printed on-site. Visitors can also snuggle up for a hayride or train ride through the streets or roast marshmallows on Railroad Street.
A free workshop for kids hosted by the Conyers Home Depot will be offered, along with various craft stations sponsored by downtown merchants. The Fantastic Falcons of C.J. Hicks Elementary School, under the direction of Thomas Russell, will perform at 6 p.m. on the Depot stage. Restaurants and shops with special holiday sales will be open and ice skaters will take to the ice at the ice rink sponsored by Ice Days at the Olde Town Pavilion, 949 S. Main Street.
On Dec 1, the Conyers Christmas Parade will wind its way through Olde Town Conyers beginning at 4 p.m. The parade begins at Rockdale County High School on Pine Log Road and continues to Main Street to conclude at the Rockdale County Courthouse on Milstead Avenue.
The theme of this year's parade is "Christmas in the South" and entries in the parade include the Heritage High School Marching Band, Atlanta Picture Cars, the Georgia Vietnam Veterans Alliance and the Salem High School Marching Band. Dancers, scout troops, recreational sports teams, churches and local businesses will lead the way for the arrival of Santa Claus aboard the 1951 Rockdale County Fire Truck.
"All of the events in Olde Town the weekend of Nov. 30 – Dec. 1 are the perfect way to usher in the holiday season in Conyers and Rockdale County," said Sandy Daniels, event coordinator for Olde Town Conyers.
Winterfest, sponsored by Ice Days Conyers, will be held on Center and Commercial streets on Saturday, Dec. 1, noon – 7 p.m. The event includes live entertainment, arts and crafts vendors, children's activities and more. Admission is free.