Testingfg of Ads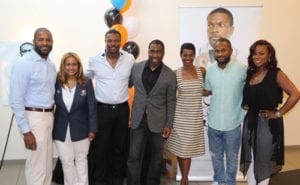 Actor/comedian Chris Tucker told 500 youths attending the Dream Symposium hosted by DeKalb Interim CEO Lee May that they, too, can dream big and succeed in the entertainment industry with hard work. The symposium, attended by hundreds of children enrolled in the DeKalb County Parks and Recreation summer program, was held at the Porter Sanford Performing Arts Center in Decatur on June 29.
Tucker, a native of DeKalb, was among a panel of media and entertainment professionals who told the youths, ages 12 to 15, how rewarding the entertainment industry can be and steps they can take to make their own dreams come true.
Other invited panelists included Kandi Burruss-Tucker, a Grammy Award winning singer-songwriter; Karmetria Burton, director of supplier diversity for Delta Air Lines; Shanti Das, founder/CEO of Press Reset Entertainment; Darian "Big Tigger" Morgan, host of The Big Tigger Show" on V-103 (WVEE-FM); and Byron Wright, senior director of writer-publisher relations at Broadcast Music Inc. The event was moderated by Rashan Ali, a freelance sports anchor for CNN and HLN's Weekend Express, and founder of the nonprofit Sporty Girls. Glamour, an all-female R&B trio, performed for the audience.
"These panelists have realized their dreams and what made them successful is that they kept going, despite the failures," said DeKalb Interim CEO Lee May told the youths in attendance. "Don't be afraid to fail. You can have this big dream, but you've got to do something. You've got to work hard