Testingfg of Ads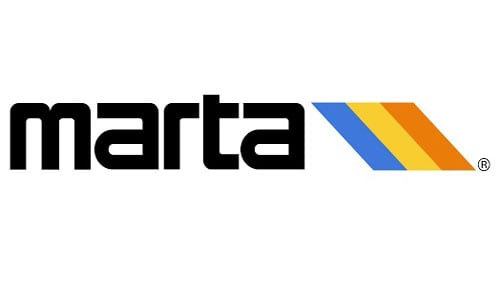 EFFECTIVE MONDAY, APRIL 20, 2020- To prioritize essential transit service, MARTA is reducing bus service to the 41 routes listed below.




OPERATIONAL BUS ROUTES BEGINNING 4/20/2020

2
 4
 5
 6
 15
 19
 21
 26
 39
 40
 42
 49
 50
 51
 60
 71
 73
 78
 82
 83
 84
 86
 89
 95
 102
 107
 110
 111
 117
 120
 121
 172
 178
 185
 186
 191
 192
 193
 196
 816

 Including Oakley Industrial Circulator

ALL OTHER BUS ROUTES WILL BE SUSPENDED
Bus customers will enter and exit using the rear doors only, except for customers who require the accessibility ramp.
MARTA is suspending fare collection on buses; For customers transferring to and from the rail system, fares will be paid at the rail stations.
COVID-19 Service Reduction Map
Click here view an enlarged version of map. Click here to view route list.
Click here to access the interactive system
Changes to Rail Service 
Red Line Schedule |  Gold Line Schedule
Blue Line Schedule |  Green Line Schedule
Weekday rail service will begin at 5 am and operate on a Sunday schedule, with trains arriving at stations approximately every 20 minutes.
All Red and Gold Line trains will travel to the Airport from the start of service until 9 pm. After 9 pm, all Gold Line trains will continue to travel to the Airport; Red Line trains will only operate between North Springs and Lindbergh. Green Line trains will turn back at King Memorial from start of service to 9 pm.
MARTA has closed the station serving Mercedes-Benz/State Farm Arena/GWCC. Trains will not stop at this station until events resume.
Weekend schedules can be viewed here.
Changes to Streetcar Service
Streetcar service will run on a Sunday schedule for weekday and weekend service.
Changes to Public Restroom Availability
MARTA is closing public restrooms at low-utilization rail stations. Public restrooms will remain open at College Park, Doraville, Five Points, H.E. Holmes, Indian Creek, Lindbergh, and North Springs rail stations.
Visit Twitter ( @MARTAService) for real-time information for rail and bus operations.
Call our Customer Care Center at 404-848-5000 if you have any concerns.