Testingfg of Ads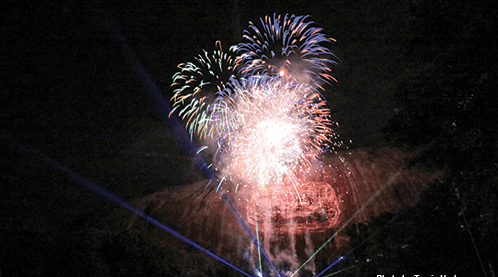 Centennial Olympic Park gets ready for July 4
 The Georgia World Congress Center Authority (GWCCA), in partnership with The Coca-Cola Company, is bringing its annual Fourth of July Celebration back to Centennial Olympic Park in downtown Atlanta on Thursday, July 4.
Music and a variety of food trucks will be available including ANGELFIRE7 BBQ, Atlanta Seafood Company, and Jerkbrothersatl. Gates open at 7 p.m. and the fireworks show will begin at 9:45 p.m.
Visitors under 17 years of age are required to be accompanied by a parent or guardian 25 years of age or older at all times.
Admission is free and advance parking can be purchased online at www.gwccparking.com.
Conyers to host "Red, White and Boom" fireworks show
The city of Conyers and Rockdale County will present the "Red, White and Boom" celebration in Olde Town Conyers on Wednesday, July 3, 6 p.m. to 10 p.m.
The fourth of July celebration includes live music, entertainment, children's activities, food trucks, fun and a fireworks show. For more information, visit conyersga.com.
     Decatur to host parade, concert and fireworks
Get on your feet and join the Pied Piper Parade as it makes its way through downtown Decatur on Thursday, July 4. Gather friends and family, ride your bike, walk or skate in this community parade. Lineup is at 5:30 p.m. and commences at 6 p.m. at the First Baptist Church of Decatur, 308 Clairemont Ave.
Pedestrians should gather on the lawn and vehicles will line up in the parking lot. A concert on the Square will follow the parade at 7 p.m. in the Community Bandstand and features the Callanwolde Concert Band. Fireworks begin at 9 p.m.
The City of Decatur and the Decatur Business Association are sponsoring the event. For more information, call 678-553-6573.
Fourth of July Fireworks hike set at Panola Mountain State Park
 Slow down this July 4thand join a ranger for a leisurely stroll to the top of Panola Mountain on Thursday, July 4, 8 to 10 p.m. at Panola Mountain State Park, 2620 Highway 155 SW, Stockbridge.
As the sun sets, enjoy a panoramic view of Stone Mountain and Atlanta's Independence Day celebrations from a distance. Bring water, bug spray, and a flashlight for the walk back down the mountain to a waiting campfire and s'mores.
For more information, visit arabiaalliance.org.
Chamblee to host fireworks, live music on July 4
Join family, friends and neighbors in Downtown Chamblee for the Chamblee Summer Concert Fourth of July show on Thursday, July 4, 6 to 10 p.m., at Keswick Park, 3496Keswick Drive, Chamblee. The line-up includes fireworks and live music by the Crystal Clear Band. For more information, visit chambleerocks.net.