Testingfg of Ads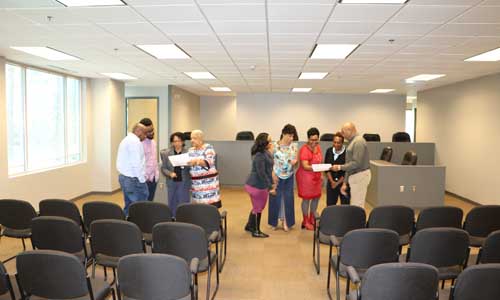 Stonecrest employees do a walk-through of their new digs
The city of Stonecrest will welcome residents and visitors to its new City Hall on Saturday, Nov. 11, noon to 3 p.m., 3120 Stonecrest Boulevard. A ribbon cutting ceremony with city officials and other dignitaries is planned, along with a half day of festivities.
Arabia Mountain High School's marching band will perform and the color guards from Miller Grove High School will participate in the historic celebration of the new city of 53,000 residents. The R&B band, Gritz & Jelly Butter Band will perform.
City officials have been housed in temporary office space in the Strayer University Building since July and holding City Council meetings at the Stonecrest Library.  The move to its new 13,000-square-foot City Hall, which will be located on the first floor of the Strayer University building, will provide a home for council meetings and a permanent place to conduct city business.
The new City Hall's conference rooms will be named for four high schools: Arabia Mountain, Miller Grove and Lithonia High, which are all within the city limits, as well as Martin Luther King, Jr. High, which is located close to the city. Artwork representing each of the high schools will be showcased in the conference room.