Testingfg of Ads
By Erica Hubbard
OCG News Intern
Across metro Atlanta, a host of events have been planned to celebrate the Fourth of July, America's birthday. The events range from small town celebrations like the golf cart parade on the Covington square in Newton County to the large scale bash at Lenox Square Mall in Buckhead, touted as the largest fireworks show in the Southeast.
It's time to make your plans where you'll celebrate the big day and we've compiled a listing of some of the most popular free events in On Common Ground News' coverage areas to help you.
We will update this listing in our July 2 edition. So, if you'd like to include a parade or fireworks show in the metro that is not listed here, please email us at editor@ocgnews.com.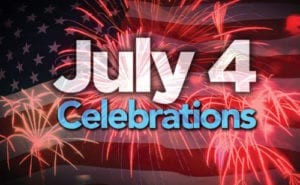 ATLANTA
Celebrate July 4 at Lenox Square
For over half a century, Lenox Square has celebrated Independence Day in grand tradition with patriotic activities for the entire family. This year's July 4 activities will include the largest fireworks display in the Southeast, musical entertainment and food concessions.
At 6 p.m., the Jimmy Buffet tribute band Sons of Sailors will open the live music performance. Headliner Party On the Moon will play the latest in current dance, classic rock, disco/funk, swing R&B, Motown and new country will perform at 7:45 p.m. Party on the Moon played at President Obama's inauguration ball and New York Giants quarterback and Super Bowl champion Eli Manning's wedding.
The fireworks show begins at 9 p.m. Lenox Square is located at 3393 Peachtree Road, NE, Atlanta.
Paid parking is $10 at Lenox Square for the celebration VIP parking is $20. Those who plan to go, however, are encouraged to use MARTA. Several streets and highways will be closed due to the celebration.
For more information, call 404-233-6767 or visit www.simon.com/mall/lenox-square.
4th Celebration at Atlanta's Centennial Park
Downtown Atlanta's Centennial Olympic Park's Fourth of July Celebration will offer fun and entertainment for the entire family, including free music and fireworks display.
Certain items are not permitted in the park. To find out what's not permitted and for more information, visit www.centennialpark.com or www.centennialpark.com/index.php/plan-your-visit/event-calendar/springsummer-events/4th-of-july
9th Annual Chastain Park community parade
The annual walking parade in the Chastain Park community brings residents together on the 4th of July for patriotic tradition and celebration. This event is especially targeted to children in the community who are invited to ride their bikes or dress up in patriotic attire and walk in the parade.
The parade will be held from 11 a.m. to noon on West Wieuca Road at the intersection of Dudley Lane and Pool Road. For more information, email tejas.patel@alston.com or call 404-881-4987.
AJC Peachtree Road Race
The Peachtree Road Race, organized by Atlanta Track Club, is the largest 10K in the world. In its 47th running, the race has become a Fourth of July tradition for thousands of people throughout the metro Atlanta area and beyond. For more information, visit www.atlantatrackclub.org/peachtree.
DEKALB
New Birth Missionary Baptist Church tailgate to return
New Birth Missionary Baptist Church's July 4th Celebration will return this year with a tailgate after several-years hiatus. The fireworks show will begin at dusk.
Those who want to cook out may set up their grills in designated areas of the church's parking lot before the show. Used charcoal must be disposed of properly after grilling.
Admission is free. New Birth is located at 6400 Woodrow Road, Lithonia.
Avondale Estate sets parade, hotdogs and fireworks
The 4th of July Celebration is a time-honored tradition in Avondale Estates. Residents and friends come together to enjoy the Fourth of July festivities, including a parade and fireworks at Lake Avondale.
At 9:15 a.m., the parade lineup will be at the DeKalb School of the Arts, 1192 Clarendon Ave. The parade will begin at 10 a.m. and ends one hour later at the intersection of Clarendon Avenue and South Avondale Road.
At 5 p.m., the action picks up again with the Boy Scouts on hand selling hot dogs, drinks, and snacks at Lake Avondale. At dusk, the fireworks begin at the lake.
The event is free to attend. For more information, visit www.avondaleestates.org or call 404-294-5400.
City of Decatur July 4th Pied Piper Parade, Concert and fireworks
Decorate your bicycle, skateboard or wagon to ride, skate, or walk in the Pied Piper Parade as it winds through the streets of downtown Decatur on the Fourth, starting at 6 p.m.
Following the parade, a concert on the square will feature the Callanwolde Concert Band and a fireworks show will be held at dark. This free event is sponsored by the Decatur Business Association.
Fantastic Fourth Celebration at Stone Mountain Park
Don't miss the Fantastic Fourth Celebration, July 1-4, at Stone Mountain Park. Enjoy fireworks, laser shows, train rides, sky rides, a 4D theatre adventure with Yogi Bear and other attractions from 10:30 a.m. to 8 p.m.
The laser show and fireworks, one of metro Atlanta's traditions, start at 9:30 p.m. For admission, parking fees and other information, contact: www.stonemountainpark.com or 800-401-2407.
GWINNETT
Get set to celebrate with Star Spangled Snellville
Get your Fourth of July off to a good start with Snellville's own Independence Day Celebration on July 4, 4 to 10 p.m., on the Towne Green, 2342 Oak Road S.W., Snellville.
The afternoon begins with games and musical entertainment and ends with a fireworks display at dusk.
Admission is free. For more information, log on to www.snellvilletourism.com or email info@snellvilletourism.com.
ROCKDALE
TBA
NEWTON
Independence Day on the square
Celebrate Independence Day on the square by enjoying food, a golf cart parade, antique car show, and old-fashioned fun. There will be dunking booth, hamster roll, spider jump, bucket truck rides, face painting, inflatables, hydrant release, touch-a-truck, a rock wall and much more for the kids.
Even enjoy live music from featured bands:  Newton County Community Band, Battle Hymn of the Republic Mass Choir, Hudson Road, Tedo Stone, Drive Time Band, Whiskey Bent and more.
For more information, contact Main Street Covington at 770-385-2077; call 770-786-8188 or visit www.newtoncountyarts.org.