Testingfg of Ads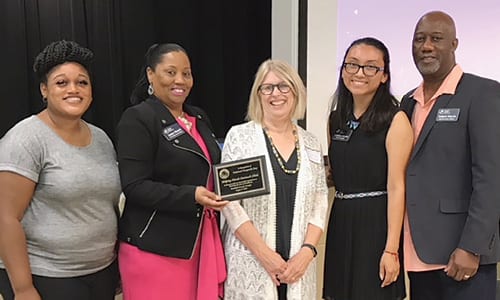 By Mackenzie N. Morgan
Nearly 100 people attended the first Rockdale County Nonprofit Appreciation Brunch on Aug. 20 at the JP Carr Community Center in Rockdale County. Sponsored by Post 2 Rockdale County Commissioner Doreen Williams, the event brought together local nonprofits in honor of national Nonprofit Appreciation Day held annually on Aug.17. 
"Rockdale County has over 700 registered 501c3 organization and there's so much good that goes on that people are not aware of," said Williams. "This really gave us an opportunity to spotlight some of the agencies that slide under the radar and recognize the valuable contributions these organizations make to the community."
Nearly 50 organizations were in attendance and were recognized with a certificate. Four organizations were spotlighted, including Angie's House, Nehemiah Empowerment Center, 321 Stop Bullying and Helping Hands Outreach Clinic. A video presentation introduced each of the directors and founders of the four organizations, sharing their mission, history and some of their recent activities in Rockdale.
Janice Morris, executive director of Helping Hands Outreach Clinic, which provides affordable primary healthcare services to uninsured and underinsured, said she was extremely grateful for the opportunity to share the work the clinic is doing to keep Rockdale healthy. The clinic recently expanded to include telemedicine, as well as specialized services in pulmonology, cardiology, and gastroenterology. 
"It was an honor to be amongst other agencies doing such great work in the community and being acknowledged for our commitment to serving others," said Morris. 
Representatives from over 20 areas of service attended the meeting including Just Serve, a free volunteer match program based at The Church of Jesus Christ of Latter-day Saints and the Volunteer Income Tax Assistance(VITA) program from the Internal Revenue Service. VITA helps people file their taxes for free and assists in determining eligibility for Earned Income Tax Credit.
Corey Hambrick, pastor of Life Church Christian Center, who also is an actor on the TV series "Preachers of Atlanta" and Chief of Staff for Rockdale County Government, closed the event with an inspirational presentation. Hambrick thanked attendees for their contributions to Rockdale, encouraging them to keep "driving through the storms until they come out on the other side."
"My hope is to make local nonprofits aware of one another and to foster more opportunities for collaboration in an effort to better serve Rockdale citizens," said Commissioner Williams.
L-R: Elaine Davis-Nickens of Angie's House teaches leadership skills to young boys and girls who have been exposed to domestic violence in their homes.
Osborne Dennis of 321 Stop Bullying raises awareness and provides support for those dealing with bullying. 321 hosts an annual march and book bag give-away in Conyers.
Pastor Anthony Smith of Nehemiah Empowerment Center runs a food pantry, clothes closet and does an annual toy and bike give-away during the Christmas season.