Testingfg of Ads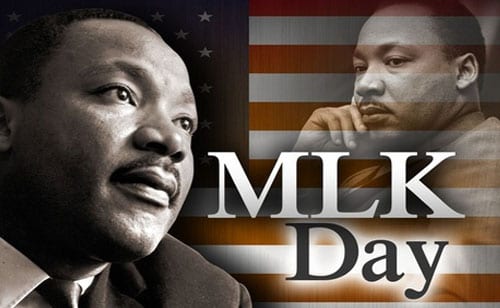 DeKalb MLK celebration to feature business owners Juanita Baranco, Shelley Anthony, Charles Greene   
DeKalb County will present its annual Martin Luther King Jr. Celebration program, "King's Vision: Humanity Tied in a Single Garment of Destiny," on Friday, Jan. 18, 11:30 a.m. to 1 p.m., in the Maloof Auditorium, 1300 Commerce Drive, Decatur. 
The King Day charge will be delivered by Juanita Baranco, executive vice president and chief operating officer of the Baranco Automotive Group.
The 2019 tribute marks the 51st anniversary of King's death and the 35th consecutive year DeKalb will host the employee-planned event honoring the life and legacy of Dr. King. 
Special musical guests will be jazz trumpeter extraordinaire Milkshake Mayfield and his wife, vocalist Tine.
Shelley "Butch" Anthony III, owner of This Is It BBQ & Seafood, and Charles Greene, owner of Matthews Cafeteria, will be honored with the Nathaniel Mosby Humanitarian Award which celebrates the recipients' commitment to tireless community service and outstanding dedication to being an agent for positive change.
The celebration is free and open to the public. For more information, visit www.dekalbcountyga.gov.   
DeKalb NAACP's MLK parade to honor sanitation workers, Vietnam vets, Sara Copelin-Wood  
The DeKalb NAACP branch will host its 17th annual parade honoring Dr. Martin Luther King, Jr., the late civil rights champion, on Jan. 21. 
This year's celebration also will honor Vietnam veterans and highlight DeKalb County's sanitation workers. King was in Memphis, Tennessee advocating for black sanitation workers' rights when he was shot and killed there in 1968. 
Several bands from the DeKalb County School District will participate in the parade. Opening ceremonies will begin at 11:30 a.m. at Green Pastures Christian Church, 5455 Flat Shoals Parkway, Decatur. The parade will follow at noon. 
Daughters of the late Sara Copelin-Wood, who served as a DeKalb School Board member and county NAACP executive board member, will serve as grand marshals. 
Decatur sets MLK service project
In celebration of the King Holiday, volunteers will come together to restore the homes of Decatur seniors. Since 2003, the Decatur Martin Luther King Jr. Service Project has provided free home maintenance and yard work. In 2017, the project helped 33 senior households with 1,200 volunteers. 
This year's project will take place Jan. 19 and Jan. 21, 9 a.m. to 5 p.m., and Jan. 20, 1 to 5 p.m.
Anyone interested in volunteering may sign up at www.mlkserviceproject.com.  
Rockdale County Think Tank presents third annual MLK Parade
The Rockdale County Think Tank MLK community parade will be held on Monday, Jan. 21, at noon. The parade will travel down Main Street in Olde Town Conyers and end at the steps of the Rockdale County Courthouse. 
There will be a program and awards ceremony in the Rockdale County Auditorium following the parade.
Individuals and groups interested in being in the parade or the program may contact Josie Dean by email at rockdalecountythinktank@gmail.com or via telephone at 770-369-1507.
Rockdale NAACP, Conyers-Rockdale Chamber of Commerce set 2019 MLK breakfast at new venue 
The Conyers-Rockdale Chamber of Commerce and the Rockdale Branch of the NAACP will co-host their breakfast in honor of the King Holiday on Monday, Jan. 21, 7:45 a.m., at Rockdale Career Academy, 1064 Culpepper Drive S.W., Conyers. For years, the breakfast was held at Longhorn steahouse.  
The breakfast, now in its 16th year, celebrates the birth and achievements of Dr. Martin Luther King Jr. and has become a community tradition for residents and business owners seeking to observe Martin Luther King Jr. Day. 
The cost to attend the breakfast program is $12 for adults and $5 for children under 12. Tickets are first-come, first-served. There are no advanced tickets and seating is limited. For more information, visit conyers-rockdale.com or call 770-483-7049. 
Rockdale County government to host inaugural MLK celebration 
The Rockdale County government invites the public to its first Martin Luther King, Jr. celebration event on Monday, Jan. 21, 2 p.m. to 4 p.m. at the Rockdale Career Academy Auditorium, 1064 Culpepper Drive S.W., Conyers.,
.Dancers from Jenae's Dance Experience and Showtime Pros, as well as local talent from Rockdale County Public Schools will perform in a show highlighting Dr. King's legacy and his impact on civil rights, past and present, with the theme being "This is America". Congressman Hank Johnson will be the special guest at the event. Admission is free and the public is encouraged to attend.
For more information, email jorge.diez@rockdalecountyga.gov or call 770-278-7056.