Testingfg of Ads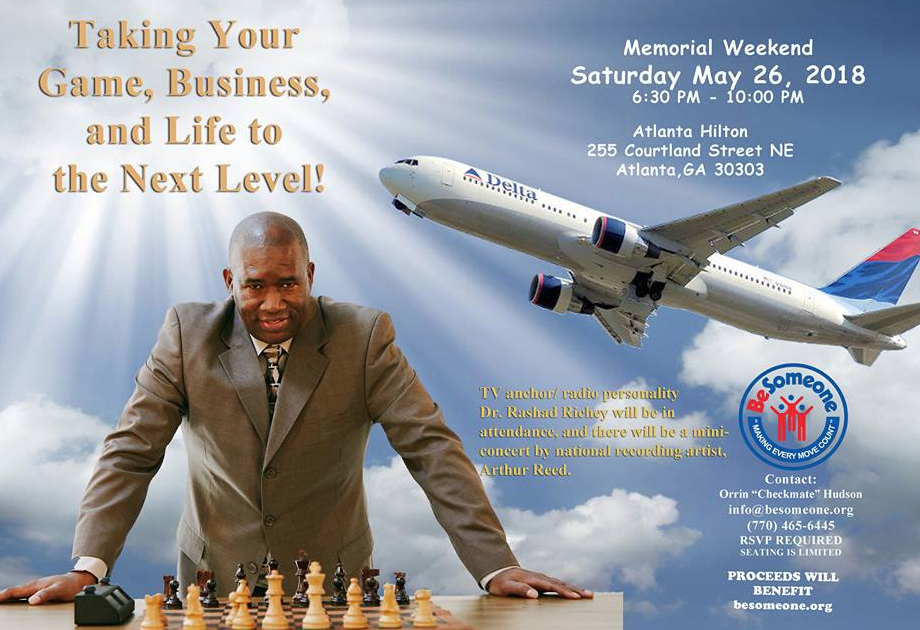 Orrin "Checkmate" Hudson is hosting his Memorial Day Weekend Birthday Bash on Saturday,
May 26
, 6:30 to 10 p.m., at the Downtown Atlanta Hilton Hotel,
255 Courtland Street NE, Atlanta
.
The chess champion and motivational speaker is kicking off summer with a fun and entertaining evening for families. The free event gives attendees a sneak peek at what it's like to attend one of Hudson's hands-on, high-energy chess camps.
"There are no spectators at our events. We get everyone involved, from the students to the parentss," said Hudson, who has hosted children's chess camps since 2001. "We're looking forward to sharing this mental sport with even more kids this summer and it is our hope to provide families with the basic foundation to continue playing at home."
Research suggests that chess improves kids' problem-solving skills as well as reading and math scores.
"Summer vacation can sometimes mean a temporary back seat for academics. Students engaged in a structured learning environment year-round are less likely to experience summer learning loss and offers kids an alternative to being in the streets," said Hudson
Be Someone summer chess camps offer a fun and unique way to keep kids intellectually stimulated during the break while learning skills that positively impact their overall studies in general.
Playing chess has been reported to raise IQ, improve memory, boost creativity, and strengthen one's capacity for critical thinking.
"These skills are invaluable in a rapidly changing world. Our camps are driven by our goal to equip youth with the tools to become successful adults. In addition to chess, kids learn sportsmanship, self-esteem, and patience. Parents who play chess with their kids reap the same benefits, which translate to better job performance. That's a win-win for everybody."
The event will feature music, door prizes, light refreshments and special guest TV/radio personality Dr. Rashad Richey (CBS 46 News Atlanta, 1380 WAOK and V-103). There also will be a mini concert by national recording artist Arthur Reed.
Donations are appreciated to fund upcoming summer programs for underprivileged youths who desire to learn how to play chess and strategies for living a successful life. The first camp will be held
June 4-8
and is open to campers age 7 and up. Tuition is $250.
For more information about the event or summer chess camps, call 770-465-6445 or visit 
www.besomeone.org
.
Orrin Hudson is the founder and president of Be Someone Inc., which uses chess as a vehicle to demonstrate the principles of life as well as encourage students to find positive ways to resolve conflict. Be Someone was founded in 2001 and has trained over 61,000 youths. The organization's goal is to teach chess to 1 million students.