Testingfg of Ads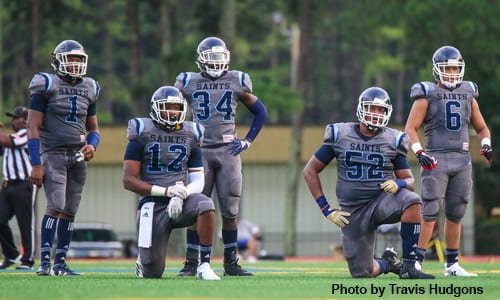 by Mark Brock, DeKalb County Athletics
The Class 3A No. 2 ranked Cedar Grove Saints make their second consecutive trip out of state traveling to Hoover, Alabama for the Geico ESPN High School Doubleheader Kickoff against the Alabama Class 7A Hewitt-Trussville Huskies at 2:30 pm on ESPN.
The Saints are 1-0 on the season after hitting the road to Summerville (SC) last Saturday and defeating Summerville 21-7.
Robert Jones III contributed 101 yards and a touchdown as the Saints piled up 226 yards rushing in the game. A 9-yard touchdown run by quarterback Kendall Boney and a 12-yard touchdown pass to 5-Star receiver Jadon Haselwood (Georgia commit) from quarterback Austin Smith had the Saints up 21-0 with four minutes to play.
Cedar Grove has preseason All-State players in defensive linemen Rashad Cheney (Alabama commit) and Dante Walker and junior linebacker Isaiah Ratcliff (10 tackles, 1 TFL, 0.5 sacks) to contend with a potent Hewitt-Trussville offense. The group along with linebacker William Jenkins (6 tackles, 1 INT, 1 FR) and company limited Summerville to 141 yards of total offense.
The Huskies are playing their season opener as they face the Saints, but have some offensive firepower to throw at Cedar Grove's defense. Alabama commits quarterback Paul Tyson and 5-Star offensive lineman Pierce Quick lead the way. Tyson has receivers Ja'Varius Johnson (Auburn commit) and highly touted junior Dazalin Worsham to connect with in the passing game.
Cedar Grove has won 24 of its last 25 games under the direction of Head Coach Jermaine Smith, including the 2016 Class 3A title in a 30-19 win over Greater Atlanta Christian. The lone loss was a tough 14-6 defeat to eventual 2017 Class 3A state champion Calhoun in the semifinals last fall.
Hewitt-Trussville put together 11 consecutive wins to open the 2017 season to reach the Class 7A state quarterfinals with no game closer than 7 points. The Huskies season ended at the hands of Saturday's host Hoover, the two-time defending Class 7A Alabama state champions, which takes on Alabama's 2017 Class 6A state champion Pinson Valley at 11:00 am in the ESPN doubleheader telecast.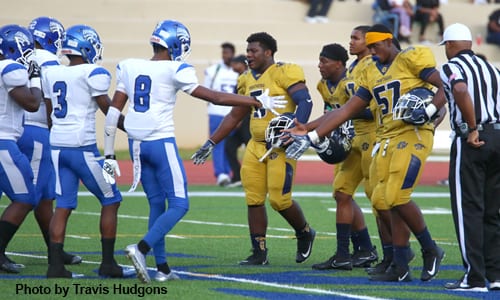 Stephenson vs. SW DeKalb
Seventeen other DeKalb teams are in action this week highlighted by the 15th renewal of the rivalry between Southwest DeKalb and Stephenson with kickoff set for 8:00 pm at Hallford Stadium on Friday night.
The Jaguars (1-0) are coming off a season opening 39-12 win over the Columbia Eagles and are ranked No. 9 in the Class 6A state poll by the AJC. Stephenson's Deondre Jackson rushed for 226 yards and three touchdowns on 11 carries in the win.
Stephenson leads the series 9-5 having won the past seven matchups including last season's 31-18 victory.
The Panthers (1-0) also won their season opener by taking an 18-0 road victory over Woodland of Stockbridge last week.
Miller Grove vs. Decatur (Game/Site Change)
Miller Grove is set to host Decatur in a rare Thursday night game at 7:00 at Avondale Stadium due to damage at the Decatur football field.
Miller Grove is coming off an 18-12 win over Redan where Ashton Waters connected with Kameron Williams for a touchdown on a fourth down play at the Redan seven-yard line midway into the fourth quarter.
Decatur dropped a tough 21-10 decision to the Lakeside Vikings last week. The Vikings rallied from a 20-7 fourth quarter deficit for the win.
A pair of neighborhood rivalries will play on Friday as the Towers Titans (0-1) host the Columbia Eagles (0-1) at Avondale Stadium on Friday at 7:30 pm and the Redan Raiders (0-1) play hosts to the Lithonia Bulldogs (1-0) on Friday at 7:30 pm at Godfrey Stadium.
Columbia and Towers meet for the 28th time on Friday, but have not played since 2011. Columbia won that 2011 game 59-6.
Lithonia and Redan will mark their 27th meeting with the Raiders holding an 18-8 advantage in the series including an 18-9 victory in 2017.
Martin Luther King Jr. and Dunwoody open their seasons this weekend. The Lions travel to Villa Rica (0-1) for a 7:30 pm contest on Friday while the Wildcats head down the road to St. Pius (0-1) for a 7:30 pm game.
DCSD FOOTBALL WEEK 2 SCHEDULE
Thursday, Aug. 23
Decatur (0-1) vs. Miller Grove (1-0), 7:00 pm
Friday, Aug. 24
ADAMS STADIUM
South Atlanta (0-1) vs. Druid Hills (1-0), 7:30 pm
AVONDALE STADIUM
Columbia (0-1) vs. Towers (0-1), 7:30 pm
GODFREY STADIUM
Lithonia (1-0) vs. Redan (0-1), 7:30 pm
HALLFORD STADIUM
North Springs (0-1) vs. Clarkston (0-1), 5:15 pm
SW DeKalb (1-0) vs. Stephenson (1-0), 8:00 pm
NORTH DEKALB STADIUM
Social Circle (0-0) vs. Stone Mountain (0-1), 7:30 pm
AWAY/NEUTRAL SITE GAMES
Arabia Mountain (1-0) at Stockbridge (0-0), 7:30 pm
Chamblee (0-1) at Lowndes Co. (1-0), 7:30 pm
Cross Keys (0-1) at Berkmar (0-0), 7:30 pm
Dunwoody (0-0) at St. Pius X (0-1), 7:30 pm
Lakeside (1-0) at Northview (0-0), 7:30 pm
M.L. King Jr. (0-0) at Villa Rica (0-1), 7:30 pm
Saturday, Aug. 25
AWAY/NEUTRAL SITE GAMES
Cedar Grove (1-0) vs. Hewitt-Trussville AL (0-0), 2:30 pm, Hoover, AL
(Televised by ESPN)
Tucker (0-1) vs. Grayson (), 6:00 pm
OPEN: McNair (1-0)