Testingfg of Ads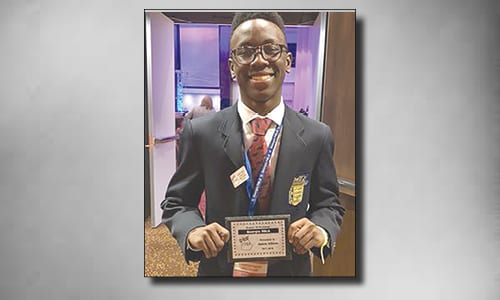 Cedar Grove High senior and former intern shares advice for success 
Now that Cedar Grove High School senior Jamile Ollison has graduated, he is ready for his summer job. 
Ollison will join 400 youths in DeKalb who will be working at businesses throughout the county as part of the DeKalb Works summer youth employment program.
Last summer, Ollison boarded a MARTA bus four days a week to work at Corporate Environmental Risk Management (CERM), an environmental engineering and project management firm located in Tucker. While on the job, he visited work sites and helped with administrative tasks around the office. He was surprised at the amount of networking he was able to do when CERM leadership brought him to Chamber of Commerce meetings. 
"The internship lets me experience and get a feel for working," said Ollison. "It's a good way to try out different jobs."
Ollison encourages new interns to observe while on the job, but not be afraid to jump in. 
"Always ask your supervisors what else you can do," said Ollison. "Be confident and don't just sit around."
This summer, Ollison will intern with an accounting-focused agency and prepare to attend Clark Atlanta University, where he received a full scholarship. He was accepted to nine universities, including Clark Atlanta, Mercer, George Mason and Brenau. 
The DeKalb Works internship program has filled all traditional internship slots this year, but 50 spots still exist for youth between 16 and 24 years old who are not enrolled in any school. For more information on the program or for more information on other youth employment opportunities, visit www.worksourcedekalb.org or call 404-687-3400.