Testingfg of Ads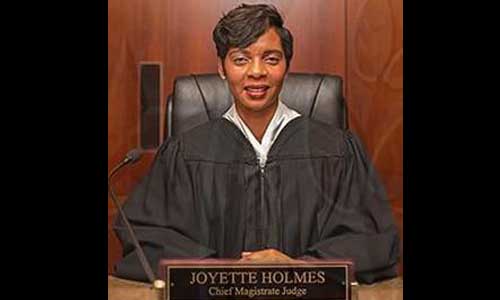 Attorney General Chris Carr today announced he will formally appoint Cobb County District Attorney Joyette M. Holmes to lead the prosecution of Gregory and Travis McMichael, a father and son who have been charged with aggravated assault and the murder of Ahmaud Arbery.
"I appreciate District Attorney Tom Durden's involvement in the Ahmaud Arbery case," said Attorney General Chris Carr. "This case has grown in size and magnitude since he accepted the appointment on April 13, 2020, and as an experienced District Attorney, Tom has recognized that another office is better suited from a resource perspective to now handle the case. As a result, he has requested our office to appoint another District Attorney.
"Today, our office formally appointed District Attorney Joyette M. Holmes of the Cobb County Judicial Circuit to lead the prosecution. District Attorney Holmes is a respected attorney with experience, both as a lawyer and a judge, and the Cobb County District Attorney's office has the resources, personnel and experience to lead this prosecution and ensure justice is done."
Holmes is set to become the third prosecutor assigned by the state to the Arbery case. Tom Durden, DA of the Atlantic circuit, will step aside. Last week Durden announced he would ask a grand jury to consider criminal charges against Greg and Travis McMichael. The duo cornered Arbery, with the help of third man, as the 25-year-old jogger ran through their subdivision just south of Brunswick.
Brunswick DA Jackie Johnson recused herself because Gregory McMichael formerly worked for the District Attorney's Office.  The case was then assigned to George Barnhill, who, along with Johnson, are now the subjects of a federal investigation into their handling of the Feb. 23, 2020 fatal shooting of Arbery.