Testingfg of Ads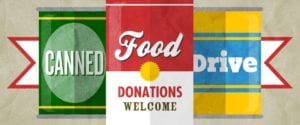 DeKalb County's Department of Recreation, Parks & Cultural Affairs will accept donations of nonperishable food items for its annual canned food drive now until Friday, Nov. 18.
Citizens are encouraged to help fight hunger in their community by dropping off nonperishable items at one of the county's recreational facilities during normal operating hours. Once all items are gathered, they will be distributed to county citizens in need.
Citizens are asked to drop off donations at any of the following locations:
Manuel J. Maloof Center, 1300 Commerce Drive, Decatur
Browns Mill Recreation Center, 5101 Browns Mill Road, Lithonia
Exchange Recreation Center, 2771 Columbia Drive, Decatur
Gresham Recreation Center, 3113 Gresham Road, Atlanta
Hamilton Recreation Center, 3263 Chapel Street, Scottdale
Lucious Sanders Recreation Center, 2484 Bruce Street, Lithonia
Mason Mill Recreation Center, 1340-B McConnell Drive, Decatur
Midway Recreation Center, 3181 Midway Road, Decatur
N.H. Scott Recreation Center, 2230 Tilson Road, Decatur
Porter Sanford III Performing Arts & Community Center, 3181 Rainbow Drive, Decatur
Redan Recreation Center, 1839 Phillips Road, Lithonia
Tobie Grant Recreation Center, 644 Parkdale Drive, Scottdale
Tucker Recreation Center, 4898 LaVista Road, Tucker
*Maloof Building will be open Monday through Friday from 8:30 a.m. to 5 p.m.
*Recreation centers and the Porter Sanford III Performing Arts & Community Center will be open Monday through Friday, 1 to 5 p.m.