Testingfg of Ads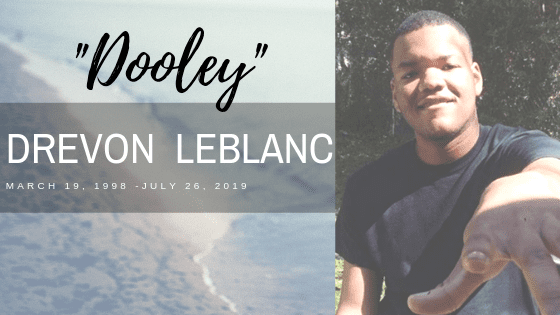 By Mackenzie N. Morgan
OCG News Staff Writer
Family and friends celebrated the life of Drevon LeBlanc on Thursday, Aug. 1, during a homegoing service at the Divine Mortuary Chapel, 5620 Hillandale Drive, Lithonia.
Now, the family is preparing to lay the young man to rest in Battle Creek, Michigan, his family's hometown. The family has  set up a Gofundme page to help with burial expenses.
LeBlanc died on Friday, July 26, while at the barbershop in the Chevron plaza, located at the intersection of South Deshon and S. Stone Mountain-Lithonia roads. He was 21.
Hundreds of people packed out the Chevron parking lot for a candlelight vigil, which was held on Saturday, July 27, a day after LeBlanc died.
LeBlanc's family and a host of friends attended the vigil, which included a balloon release and candle lighting ceremony.
LeBlanc's older brother, Andre LeBlanc, II  spoke at the vigil and thanked everyone for coming out to support Drevon, affectionately known as "Dooley," in the neighborhood.
"I am overwhelmed by the love and support from so many people. Dooley would have been so proud to see us come together like this. He was a joyful dude and I'm going to hold him down. I hope this will encourage the community to stick together and keep their heads up," said LeBlanc.
LeBlanc's parents were overcome with grief for the loss of their youngest of their three children.
"He was like a ray of sunshine coming into the room and just made you feel at ease," said his mother, DeVonna Fields-LeBlanc.
"He loved to joke and he loved to help people. He always had a smile on his face and would always make sure I was ok.  I will miss his big beautiful smile."
His father, Andre LeBlanc, posted several biblical scriptures on his Facebook page expressing his love for God and his son.
"Right now I'm in a different place, and though we seem apart, I'm closer than I ever was, I'm there inside your heart. I'm with you when you greet each day and while the sun shines bright," Andre LeBlanc said in one Facebook post.
Drevon Corian LeBlanc was born in Battle, Creek Michigan on March 19, 1998. He relocated to Atlanta with his family at the age of 1.  As a youth, LeBlanc participated in community football at the Redan Recreational Park, where he played on the offensive and defensive line. He was known as the heavy hitter on the football field.  LeBlanc was baptized in 2004 at Fairfield Baptist Church in Lithonia and attended Stephenson High School in Stone Mountain.
LeBlanc looked up to his big brother, "Lil Andre,'"named for their father, and loved being the protector of his big sister, Deja. The family said he had a big heart and a generous spirit.
"As a kid, he used to take all the snacks from the house and give them to the other kids in the neighborhood," said Andre LeBlanc.
The family saidDrevon wanted to pursue a career as a music artist and spent countless hours writing and recording his music, which he'd hoped to hear on the radio some day.
Drevon was preceded in death by his grandmother, Clara Mae (Smith) Fields; great-grandmother, Lillian Horton; grandfather, James H. Sharp; step-grandfather, Allen Johnson; great-grandmother, Beulah Mae "Big Mama" Johnson; god parents, Joyce and Andrew Blake, and Corey (Jackie) Hill; Aunts Dawn West and LaToya Parker.
LeBlanc leaves to cherish his memory: parents, DeVonna M. Fields-LeBlanc and Andre' D. LeBlanc; siblings, Andre' D. LeBlanc, II and Dejamere B. LeBlanc; grandparents, Marsha Titus, Charles LeBlanc, Sr. and Vernail LeBlanc; and a host of other relatives and friends.
LeBlanc will be laid to rest in Battle Creek, Michigan, where a memorial service will be held on Aug. 7 at Second Baptist Church, 485 Washington Street.