Testingfg of Ads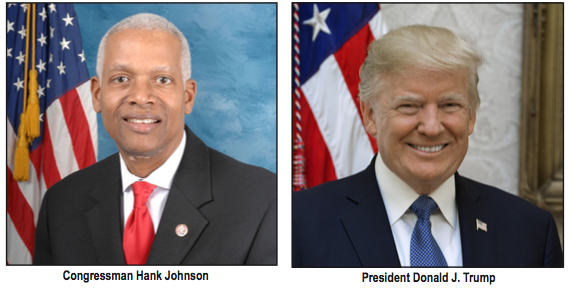 President Donald J. Trump was found not guilty on Feb. 7, bringing an end to the Senate's impeachment trial, clearing the path for him to seek re-election and emboldening opponents to defeat him at the ballot box.
Trump was acquitted 52-48 on abuse of power, the first article of impeachment. He was acquitted 53-47 on obstruction of justice, the second article of impeachment. The U.S. Constitution requires a two-thirds majority in the Senate (67 senators) to convict in an impeachment trial. Republicans hold 53 seats in the Senate, while Democrats hold 45.
Congressman Hank Johnson, who represents Georgia's Fourth District and is a  senior member of the House judiciary Committee, denounced the Senate's acquittal, saying now voters must go to the ballot box to replace Trump.
"President Donald Trump broke his oath of office by pressuring Ukraine to dig up dirt on former Vice President Biden for his own political self-interest and then did everything in his power to cover it up," Johnson said. "It reinforces the fact that the scales of justice are still tilted toward the rich and powerful and away from everyday Americans, workers, people of color, the poor, and other disenfranchised citizens. But that doesn't mean we haven't made progress. And it certainly doesn't mean we should stop fighting. While I'm disheartened, I am also emboldened. Because this process has revealed a solemn truth: The only way Donald Trump and his gang of cronies will be stopped is in the public square, in town halls, and at the ballot box. By you, by me, by us together participating in the democratic process."
Johnson also criticized Trump for awarding conservative radio talk show host Rush Limbaugh the Presidential Medal of Freedom during Trump's State of the Union Address on Feb. 4.
"This is a racist trope that panders to the Medal of Honor recipient Rush Limbaugh. Unacceptable," Johnson said in a tweet.
Teresa Hardy, president of the DeKalb NAACP, concurred with Johnson that voters would have to defeat Trump with their vote.
"We all need to speak up and speak in volumes at the voting booths in every election because we all know the truth," said Hardy.
Meanwhile, Trump supporters in metro Atlanta celebrated his victory. Savannah Viar, Georgia Press Secretary for Donald J. Trump for President, Inc., released a statement:
"Last night's packed watch parties prove that the 2020 Democrats stand no chance against President Trump in Georgia. Two terrorist leaders killed, two Supreme Court Justices confirmed, and two major trade deals signed into law and a blue collar boom to top it off means two terms for President Trump."
Trump was the third president in U.S. history to formally face an impeachment trial outside of Andrew Johnson, who was impeached in 1868, and Bill Clinton, who was impeached in 1998. No U.S. president has been removed from office through impeachment.  Only one other U.S. presiden, has faced formal impeachment inquiries: Richard Nixon, who resigned from office in 1974.