Testingfg of Ads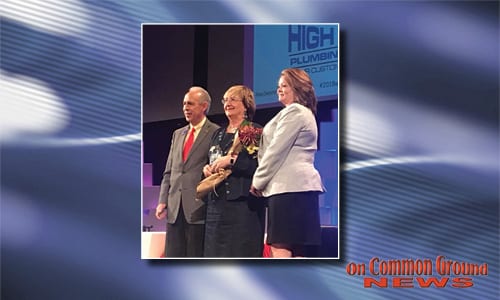 Lorraine Harrison was recently named the 2018 Woman of The Year at the second annual we3 Women's Conference in Rockdale County.  
Harrison was presented the award by the Conyers-Rockdale Chamber of Commerce, which hosted the conference and High Priority Plumbing and Services, Inc., which sponsored the award.
In receiving the award, Harrison, who owns About Marketing and publishes the About Conyers magazines was recognized as an a womanwho has distinguished herself, her profession, and her commitment to uplifting women in the Conyers-Rockdale community and the surrounding areas.  Other finalists were Darlene Hotchkiss, Hedrick Family Dentistry and Susan Paul Smith, Rockdale County Board of Education.
More than 250 women attended the conference, which was held at Discover Point Church in Conyers. Attendees experienced the empowering messages of women leaders in the community.  Janelle Brown with Life Designer University was the keynote speaker.  Her topic was "Find Your Passion".
The conference also included a session with a diverse panel of successful, local business women following their purpose and passion.  The panel included Darby Johns – Darby Johns Designs; Kacey McClure – 4Sarah, Inc.; Dr. Nancy Williams-Oharme  – Dr. Nancy's Body Soul Essentials; and Elly Dalton – Retired Edward Jones Advisor.
For more information about the Conyers-Rockdale Chamber of Commerce, and to learn more about future Chamber events, visit www.conyers-rockdale.com or call 770-483-7049.