Testingfg of Ads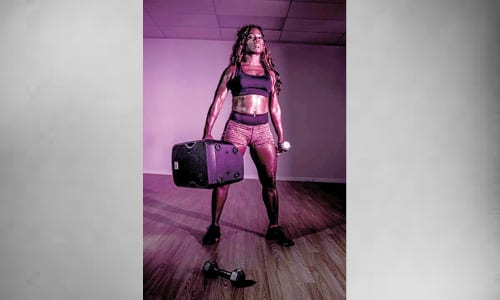 By Mackenzie N. Morgan
Conyers fitness trainer Cherisse Atwater is back from the annual Essence Festival where she taught Zumba to dozens of women at the annual summer festival held July 5-8 in New Orleans, Louisiana. 
After watching Atwater on social media, a travel agent sought out the high-energy instructor to lead a fitness class at the 2018 Essence Festival where thousands of attendees convene every year for one of the largest events celebrating African-American culture and music in the United States. 
"I've always wanted to attend Essence Festival because of its emphasis on girl power which is what I strive to bring into my profession," said Atwater. "I work with a lot of women, empowering them to live healthy lifestyles through dance and fitness so attending the conference for myself and getting a chance to do what I love was a double treat for me."   
Atwater owns Moves2Inspire, which has been in operation since 2013. After building a following in a school gym, Atwater decided to make the move to find a studio to host the packed classes. The fitness studio, which just celebrated its one-year anniversary at its Conyers location, offers fitness enthusiasts fun and challenging group workouts geared towards strengthening the body, mind and spirit.
"I've always been active, but I was pushed to teach. Dancing has always been my first love and it wasn't until 2012 when the owner of the gym I was working out at approached me about getting certified to teach. That planted the seed and eventually landed me in a teaching position," said Atwater.  
After a brief stint as an independent contractor, Atwater decided to take the leap to start her own fitness business, Moves2Inspire. 
The fitness boutique offers patrons high-intensity interval training, Zumba, cardio kickboxing and a variety of dance-fitness boot camps utilizing free weights, battle ropes and even boxing bags. 
Atwater says that students can expect an upbeat, positive environment with participants ranging from age 30 and up. Moves2Inspire also offers Silver Sneakers classes for seniors looking to get or stay in shape. 
"We hold each other accountable and because we're small, it's easier to do that. A lot of our clientele come to us because they want something outside the typical gym experience, something more intimate and family oriented," Atwater said. 
Moves2Inspire is located at 1240 Sigman Road, Suite 108-109, Conyers. 770-595-5991.