Testingfg of Ads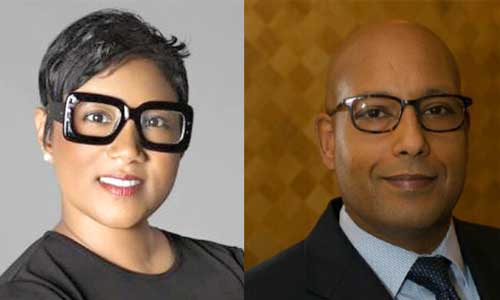 Pictured: DeKalb Commissioner Lorraine Cochran-Johnson
Abel Beyene, director and founding member of The Great Franchise Expo
DeKalb County Commissioner Lorraine Cochran-Johnson is inviting entrepreneurs and others interested in becoming franchise owners to attend The Great American Franchise Expo featuring more than 120 top franchises, including national and emerging businesses and chains.
Cochran-Johnson is partnering with the Great American Franchise Expo to present the event on May 18-19 at the Cobb Galleria. DeKalb County attendees are encouraged to visit the Super District 7 booth on Saturday, May 18, to receive resources and literature from local lending and service partners.
"I could not have imagined a better partner in my efforts to provide economic wealth and franchise opportunities," said Commissioner Cochran-Johnson. "The Great American Franchise Expo is a national leader and DeKalb residents will benefit greatly from the experience and ability to connect with opportunities to own their own businesses."
The Franchise Expo is the second half of a two-part series designed to foster economic development within DeKalb County. The series began with "The Conversation: Wealth & Empowerment" on Feb. 23.
During the February event, three prolific entrepreneurs and franchise owners were featured who spoke candidly about franchising and business ownership during a panel discussion designed to educate, enlighten and encourage entrepreneurship as a pathway to personal wealth and community improvement.
During the two-day Franchise Expo, DeKalb County Super District 7 event participants will have the ability to meet one-on-one with franchise specialists to gain insight on franchise ownership and financing. Throughout the day, valuable seminars will be available including "Franchising 101"; "The Legal Aspects of Franchising and the FDD"; "SBA Small Business Resources"; "The Banks Behind Franchising;" "Real Estate Strategy for Successful Franchising;" "How To Fund Franchises Using Retirement Money;" and "Women Business Owners are Booming," to name a few.
In addition to seminars, a variety of panel discussions will occur throughout the day featuring financial advisors, franchise owners, accountants, and industry insiders.
"Annually we introduce, educate and create the largest number of franchise business owners in the United States from a single expo experience," said Abel Beyene, director and founding member of The Great Franchise Expo. "We have extensive relationships and we work hard to produce an educational and enlightening experience that creates business owners."
The Franchise Expo will have an investment opportunity for everyone and many companies are able to give discounts to active duty military, veterans and first responders.
"If we plan to change the trajectory of our community, we must own businesses," said Commissioner Cochran-Johnson. "I remain convinced the lack of development within south and unincorporated DeKalb is not by chance—it is by design. Businesses have chosen consciously to refrain from locating within certain areas of DeKalb."
Admission to the event is free, but registration is encouraged as DeKalb participants will be tracked and provided ongoing resources to aid in their business acquisition. To RSVP, visit www.franexpousa.com/LCJ.