Testingfg of Ads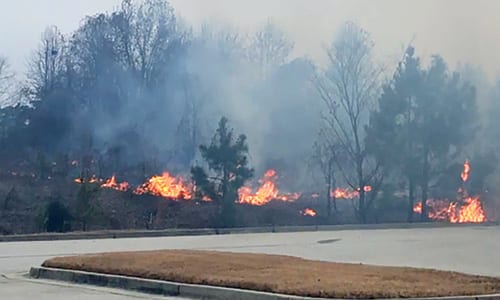 Rockdale County firefighters responded to a brush fire that broke out in a wooded area behind Voices of Faith Ministries, which is located at 1290 Sigman Road, Conyers.  The fire occurred on Dec. 27 around 3:30 p.m.
Firefighters arrived on the scene a short time after the fire started and quickly contained and extinguished the blaze. The firefighters said they were returning from another fire in the north end of the county when they were dispatched to the church.
One truck responded to the fire.  No injuries were reported and no one was at the church when the incident occurred.  
Conyers Police Sgt. Kim Lucas said according to an initial report, no cause was determined and that no further information was available. The blaze and thick smoke were visible from Sigman Road.
Bishop Gary Hawkins, Sr. is pastor and founder of Voices of Faith. The church has a campus in Rockdale and Gwinnett County.