Testingfg of Ads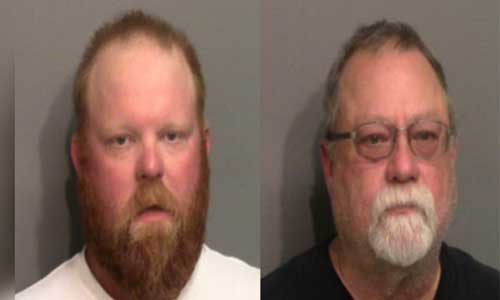 Pictured: Suspects Travis McMichael and Greg McMichael, who were charged with murdering Ahmaud Arbery.
A Brunswick son and father were charged with murder and aggravated assault tonight (May 7) in the shooting death of 25-year-old Ahmaud Arbery.  Arbery's murder became a national news story this week as public outrage mounted after a video of the horrific event went viral.
Travis McMichael, 34, and his father, Greg McMichael, 64, had chased Arbery in a pickup truck, attacking him as he jogged through a white neighborhood. The shooting was videotaped by William Bryant, a second driver who was following the McMichaels during the attack.
The Georgia House Democratic Caucus today called for the immediate arrest of the McMichaels, sending an official letter to Attorney General Chris Carr.
"The Georgia House Democratic Caucus has sent an official letter to Attorney General Chris Carr demanding that the justice process in the shooting death of Mr. Ahmaud Arbery begin with the immediate arrest today of Mr. Gregory McMichael and Mr. Travis McMichael. The family of Mr. Ahmaud Arbery needs to see the wheels of justice begin to roll in Glynn County."
The GBI took the McMichaels into custody and booked them into the Glynn County Jail tonight.
Although the murder took place on Feb. 23, the incident did not become widely publicized until recently. The video showing how Arbery was shot to death with a shotgun was posted online May 5.  Travis McMichael shot Arbery three times as he tussled with Arbery.  Gregory McMichael told authorities he recognized Arbery from surveillance video at a Satilla Shores home. He never mentioned that he had investigated Arbery on a 2018 shoplifting charge. Gregory McMichael recently retired from the Brunswick Circuit District Attorney's Office and had previously served as a police officer with Glynn County.
Community activist Amos King, who lives in DeKalb County, said he discussed the case on his internet show, The Amen Corner, a couple of weeks ago and people began to weigh in.   A preacher in Hinesville connected King to a preacher in Brunswick who had knowledge of the incident.
"I can relate to it because of the Anthony Hill case, another black man being killed, " said King, who pushed four years for the conviction of the DeKalb police officer who fatally shot Hill. The unarmed Air Force veteran was suffering from Post Traumatic Stress Disorder and was r naked and unarmed at his apartment complex in Chamblee when he was shot to death by former DeKalb Police Officer Robert Olsen
King said he contacted the Georgia NAACP's President James Woodall, who recently went to meet with Arbery's family.
"I'm just shocked that it has taken so long for an arrest," King said. "They've been charge but they still have to be convicted. We're going to have stay on top of it."