Testingfg of Ads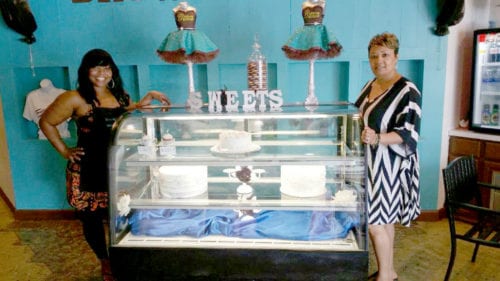 Are you in the mood for gourmet sweet goods? Head to Brown Sugar Gourmet Desserts in Conyers where you'll find mouth-watering baked goods with a distinctive flair. This bakery specializes in decadent creations, which include custom birthday, wedding, and special event cakes.
Partners Roderica Bracey and Janice Colbert are owners of the business, which celebrated its 1-year anniversary with a ribbon cutting ceremony in April.
Bracey and Colbert have approximately 15 years of combined baking experience. The two were co-workers at ADP and developed a loyal following by offering catering services independently. They teamed up and started a business together two years ago.
Bracey said their most popular offerings include red velvet cake, key lime cake, cupcakes, cookies, brownies, and cheesecake. The business has provided services for a number of celebrity clients. They can create specialty items including dipped fruits desserts.
Brown Sugar Gourmet Desserts is located at 1820 GA 20, Suite 116, Conyers (in Big Lots plaza). Hours are Tuesday, 12 – 8 p.m., and Thursday – Saturday, 12 – 8. The bakery is closed Sunday, Monday and Wednesday. For more information, call 678-806-5511 or visit www.brownsugardesserts.com.