Testingfg of Ads
By Shawn Evans Mitchell | For On Common Ground News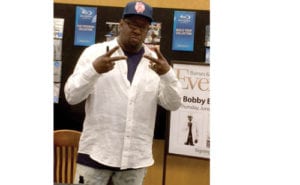 ATLANTA– Fans packed into the Barnes & Noble Edgewood bookstore recently for the chance to get up close and personal with the famed R& B recording artist, Bobby Brown.
Brown was on tour in Atlanta on June 16 to promote his highly-anticipated memoir, "Every Little Step: My Story BOBBY BROWN" (Dey Street Books; William Morrow imprint, written with Pulitzer-Prize-winning journalist and author Nick Chiles).
Many of Brown's fans had stood for as long as three hours for an autograph, hug, photo, and short conversation with the New Edition "Bad Boy."  Although Brown has been in the spotlight since the age of 14 with the release of his album, "Don't Be Cruel," the 47-year-old entertainer has been front and center most recently, due more in part to the tragic losses of his ex-wife, Whitney Houston and daughter, Bobbi Kristina.
When Brown entered the rear of the bookstore, fans screamed and chanted "Bobby, Bobby, Bobby!" "Oh my gosh, he's here! There he is!"
And there he was, surrounded by his protective entourage–some 12-15 family members and his body guard–decked in a white button down linen shirt, partially covering a black T-shirt and a navy baseball cap.
The crowd broke into dance moves and many started singing the lyrics from one of his popular throw-back hits, "It's My Prerogative." Several women began to cry in disbelief as they jumped up and down squealing at the anticipation of eventually moving to the front of a line of 250-plus onlookers that coiled around four rows of book shelves,
The bookstore began promoting the artist's visit weeks in advance, with marketing banners on the front window, and posters at the entrance tables near the bargain books. Pre-orders for Brown's new book were required and those wishing to enter the roped area where Brown stood, could only do so with a proof-of-purchase pink wristband.
Brown has been highly visible during the recent promotion of his no-holding back "tell-all" memoir, appearing for interviews with ABC's Robin Roberts, Steve Harvey, Entertainment Tonight, Tom Joyner and crew, and The View, just to name of few media outlets.
Although Brown's day was very long, having begun with radio interviews at 6 a.m., he patiently autographed close to 300 books and engaged in conversation with each person who walked to the signing table.
On the process of writing this book, Brown stated, "Right after I signed on to write my story, I went through one of the most agonizing traumas I had ever experienced with the death of my daughter. But I was surprised by how therapeutic it was to work on this project, to look at the entire arc of my life and to realize that although there has been considerable pain, I have also been incredibly blessed."
Although all conversations steered-clear of the tragic loss of Houston and "Bobbi Kris," it was obvious the weight of Brown's steps along his journey, appear to be a little lighter.
When asked by On Common Ground News to reflect on the two greatest lessons he has learned during his journey to release all and begin anew, Brown quipped: "Peace. That is the first thing. I have learned to feel and embrace peace, because through it all, through everything that has hurt my heart, I have been able to move on with the support of my family."
"I have also learned the strength of my loved ones," he continued. "Those who really love me will never stray. I learned that no matter what, they didn't walk away."
Although the exposure of his intimate encounters have been called to task and criticized by many, including Cissy Houston, mother of the late Whitney Houston, Brown said he does not regret how he presented the chapters of his life.
"This is my story. This is something I had to do. It was important for me, after all these years and after everything I have been through, to just release everything. I hope there are individuals who read this and become inspired in knowing that no matter what, you can rise above it and still be able to walk away."