Testingfg of Ads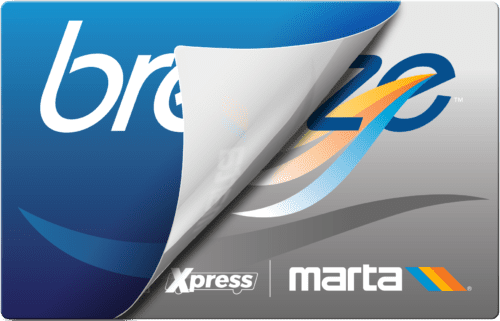 MARTA is reminding customers to upgrade to the new silver Breeze cards. After July 10, the blue Breeze cards will no longer be accepted at MARTA fare readers. The new silver cards, which can be purchased for $2, offer added security to combat fraud and abuse.
"Although we first introduced our new cards in January of last year, we still have a few remaining customers who haven't fully converted to our new silver Breeze cards," said MARTA GM/CEO Keith Parker. "We want to encourage everyone to upgrade to the silver Breeze card to help minimize any confusion on July 10."
The silver Breeze cards are available at MARTA RideStores, online at breezecard.com, or any Breeze vending machine located at all 38 rail stations. Unexpired balances must be transferred by July 9. After that date, all balances will be forfeited and the blue Breeze cards officially will be phased out of operation.
"We are pleased to offer this heightened technology that reflects current industry standards," MARTA Chief Information Officer Ming Hsi said. "A more secure card decreases the likelihood of fraud or other abuse that can be detrimental to our customers."
The silver Breeze cards will be compatible with the other local and regional transit systems including CobbLinc, the Georgia Regional Transit Authority (GRTA), Gwinnett County Transit (GCT) and the Atlanta Streetcar.
AT A GLANCE
July 10 – Silver Breeze cards go into effect. The blue Breeze cards are no longer valid.
MARTA Customer Service is available Monday through Friday, 8 a.m. to 5 p.m.: 404-848-5000
Silver Breeze cards can be purchased for $2 at MARTA RideStores, www.breezecard.com or any of the Breeze vending machines located at the 38 rail stations.