Testingfg of Ads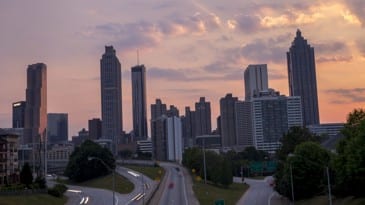 BlackRock, the world's largest asset management firm and a technology solutions provider, has chosen Atlanta for the company's newest Innovation Hub. BlackRock plans to build its presence in Fulton County, partner with the Atlanta business community and local universities, and create 1,000 career opportunities over the next several years.
Gov. Nathan Deal praised the expansion in an Oct. 25 news release.
"When firms like BlackRock choose to expand here in the No. 1 state for business, it's a powerful statement of what Georgia has to offer to industry leaders," said Deal. "Georgia provides a workforce that is among the nation's best and brightest, and their talents and skills, paired with our willingness to embrace cutting-edge innovation, will provide BlackRock with valuable resources as the company continues to grow across our nation. The establishment of this new Innovation Hub also reaffirms the value of the low-tax, pro-business environment we have established, an environment that will provide BlackRock with a strong foundation for success in Fulton County. Our state is truly a hub for industry leaders of all sectors and BlackRock's plans to strengthen its presence here further proves that Georgia is on the minds of our nation's top job creators. We value BlackRock's commitment to creating career opportunities in Fulton County and look forward to the growth of this partnership in the years to come."
By expanding in Atlanta, BlackRock will extend its technology capabilities and enjoy proximity to top universities, including Georgia Tech, where BlackRock currently sponsors the BlackRock Hallac Scholarship for socioeconomically disadvantaged students pursuing degrees in science, technology, engineering and math.
"The Atlanta innovation hub is an example of BlackRock's strategy to serve clients globally and locally and we are excited to build our presence in the area over the next several years," said BlackRock Chief Operating Officer Rob Goldstein. "Atlanta was chosen for its skilled and diverse talent pool, thriving business community and high quality of life as we look to attract top talent and constantly innovate how we operate."
"Atlanta's culture of collaboration with public and private stakeholders bolsters our region's economy, creates well-paying jobs and expands economic opportunity," said Atlanta Mayor Keisha Lance Bottoms. "The opening of BlackRock's Atlanta Innovation Hub continues this legacy and we look forward to welcoming and working with them."
Georgia Department of Economic Development Senior Project Manager Randall Toussaint represented the Global Commerce Division in partnership with Invest Atlanta, the Metro Atlanta Chamber and Georgia Power.
"Metro Atlanta is a top market for innovation, tech talent and big thinkers who disrupt the status quo, and Blackrock is a welcome addition to our ecosystem," said Hala Moddelmog, president and CEO of the Metro Atlanta Chamber. "The company will benefit from the unique collaborative spirit within our civic, business, academic and tech communities that drive success in our region. Congratulations to Blackrock for choosing Atlanta for their inn ovation hub."
"BlackRock's decision to locate in Atlanta is a testament to the strength of our rapidly growing technology ecosystem," said Dr. Eloisa Klementich, president and CEO of Invest Atlanta. "Technology business expansions in 2018 alone are projected to create an economic impact of $500 million as these companies make thousands of new hires and millions of dollars of capital investment. BlackRock is at the forefront of investment tech and will join more than 20 corporate innovation centers here that make us a top-tier city for corporate innovation."
"We are thrilled to welcome BlackRock's new Innovation Hub to Atlanta," said GDEcD Commissioner Pat Wilson. "When companies such as BlackRock choose to do business in our state, it further proves why Georgia is the prime location for innovative and rapidly growing companies. The establishment of BlackRock's new facility will serve as a magnet for additional companies in this industry, as well as top talent that keeps our workforce moving forward."