Testingfg of Ads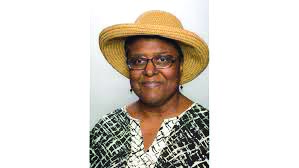 E.R. Shipp
Black Heritage of Rockdale County will host its 2019 celebration and induct 10 people into its inaugural Black Heritage Hall of Fame on March 16, 2 p.m., at the J.P. Carr Community Center, 961 Taylor St., Conyers.
The community is invited to a fascinating program that will not only celebrate black trailblazer but one that will feature a symposium about four notable black historic sites in Rockdale, Newton, DeKalb and Gwinnett counties.
Rockdale native daughter E.R. Shipp, who received the Pulitzer Prize as a journalist for the New York Daily News in 1996, will moderate the symposium, "Embracing the History Around Us." Shipp was awarded the Pulitzer Prize for her "penetrating columns on race, welfare and other social issues. An associate professor at Morgan State University's School of Global Journalism and Communications in Baltimore, Shipp is returning to Rockdale to moderate the panel, thanks to a Georgia Humanities grant awarded to the Conyers-Rockdale Council for the Arts (CRCA).
Shipp will be joined by Johnny Waites, historian of the Flat Rock Archives located in the DeKalb City of Stonecrest; Nasir Muhammad, director of Dinah Watts Pace and the Reed House & Orphanage in Newton's City of Covington; and Catherine Long, cultural resources manager of The Big House, a historic homestead known as the Promised Land in Gwinnett County.
Black Heritage of Rockdale County was established by Shipp, Katrina McCollum Young and the Rev. Aldren Sadler, Sr. on June 5, 2017 as a Facebook group. To date, more than 500 people have joined the group.
Young, president of both, the Rockdale County School Board and the Georgia School Boards Association, and Shelli Baker Siebert, CRCA's executive director, were instrumental in applying for the Georgia Humanities grant to formalize Black Heritage of Rockdale County.
The organization set as a goal for this year the launch of its Hall of Fame.
The community is invited and encouraged to attend the free program. A reception will be held after the symposium.