Testingfg of Ads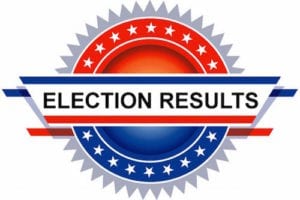 Big victory for Steve Bradshaw, Irvin Johnson in DeKalb, Oz Nesbitt and Clarence Cuthpert in Rockdale
Vernon Jones wins House 91
Tonya P. Anderson headed for Senate 43 victory
Voters overwhelmingly elected Steve Bradshaw as the new DeKalb County commissioner for District 4. Bradshaw defeated incumbent Sharon Barnes Sutton in the July 26 runoff with 5,853 votes (75.43 percent), according to early returns at the Georgia Secretary of State's Office web site. Sutton received 1,907 votes (24.57).
"I am overjoyed by this outpouring of support. I can't begin to tell you how grateful I am," Bradshaw told the standing room-only crowd who joined him for his victory celebration at the Village Corner restaurant in Stone Mountain.
DeKalb Tax Commissioner Irvin Johnson defeated contract attorney Susannah Scott with 15,142 votes (58.82%). Scott came in with 10,600 votes (41.18%), according to early results. Johnson won both a special election to fill the position for former Tax Commissioner Claudia Lawson for the remainder of the year as well as the Democratic Party primary for the four-year term that starts in January. Johnson does not face any opposition in November's general election.
In Rockdale County, current Commissioner Oz Nesbitt defeated incumbent Richard Oden in the Chairman's runoff for the Democratic Primary. Nesbitt received 3,065 votes (57.40%). Oden received 2,275 votes (42.60%).
Nesbitt is expected to face Courtney Dillard, who is seeking to run as an Independent in November. Election officials must verify signatures and addresses on Dillard's petition as an Independent before his name can be placed on the ballot, said Elections Supervisor Cynthia Welch.
"I give thanks to God, my wife, Robernett, and the voters of Rockdale County," said Nesbitt. "I think people in Rockdale County saw a real genuine person who cares about the people—not some guy on a pedestal looking down on them. For eight years, the No. 1 thing I prided myself on is being accessible. I was never a stranger at the churches that I visited. I didn't go to campaign; I went to worship."
Nesbitt said he plans to continue working hard all the way until November where he may face the Independent challenger, Dillard. He said he is putting together a readiness team that will be comprised of citizens representing all demographics in the county.
"When I'm elected, I'm looking forward to a smooth and professional transition from the current chairman, Richard Oden," said Nesbitt.
Attorney Clarence Cuthpert was elected Rockdale Probate Judge, defeating incumbent Charles Mays with 3,095 votes (59.35%). Mays received 2,120 votes (40.65%).
In Rockdale's Post 1 Commissioner Race, Sherri Washington slid to victory for the Democratic Primary with 2,657 votes (52.33%); Phyllis Hatcher received 2,420 votes (47.67%). Washington will face Republican Thomas Chastain in November.
Heather Duncan was elected to the Rockdale Board of Education. Duncan received 3,227 votes (56.23%). Barker-Carr received 2,512 votes (43.77%)
Vernon Jones will represent claimed a victory over opponent Rhonda Taylor for the House District 91 seat, defeating Taylor with 2,056 votes (53.95%). Taylor garnered 1,755 votes (46.05%). The House seat covers parts of DeKalb and Rockdale counties.
Initial results showed that Tonya P. Anderson took the lead with 4,270 votes (50.05%) in the hotly contested Senate District 43 race. Dee Dawkins-Haigler received 4,262 (49.95%). Rockdale elections officials added five provisional votes to Anderson's total and four votes to Haigler's total, which were not included in the Secretary of State's numbers.
At deadline, it appeared that Anderson would face Republican candidate JaNice Van Ness in November.
Results for all of the races must be verified and final numbers will be posted to the Georgia Secretary of State's website.