Testingfg of Ads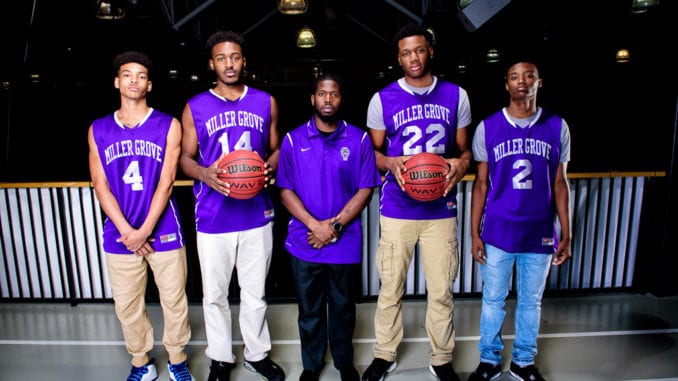 by Mark Brock, DCSD Athletics Department
A 13-4 run in the final three minutes of the second quarter helped propel the No. 4 ranked Miller Grove Wolverines to a 54-41 Class 5A boys' semifinal victory over the Hiram Hornets at Fort Valley State University on Saturday.
The win sends the Wolverines (23-7) to their eighth state championship game in 12 playoff appearances for a school that just started playing basketball in 2005.
Hiram had cut a nine-point Miller Grove lead to just five (18-13) with 4:22 left in the first half on a pair of Devon Wilkerson free throws and a pull-up jumper by Raphael Rogers.
Maurice Harvey hit the first two of four consecutive free throws with 3:02 remaining and went back to the line with 2:10 to play to make it 22-15.
Hiram missed a pair of free throws and TJ Stargell capitalized on his trip to the free-throw line by hitting a pair to start a quick 9-0 run by the Wolverines. Four consecutive turnovers forced by Miller Grove were all turned into points as Maurice Harvey, Justice King and Terrence Edwards all scored baskets in less than a one-minute span.
King added a free throw to make it 31-15 before Hiram's Nathan Presnell got a layup before the halftime buzzer leaving the Wolverines with a 14-point lead at the break.
Lorenzo Anderson five of the Wolverines' 10 third quarter points and Edwards scored on a nice up court pass from Harvey for a buzzer-beating layup to make it a 41-24 advantage in favor of Miller Grove heading into the final quarter.
Hiram's Charles Jones hit one of two free throws with 1:08 to play to pull Hiram within 11, the closest the Hornets had been since trailing by nine (24-15) with 1:40 left in the first half.
The Wolverines who hit on 21 of 24 free throw attempts in the game knocked down five of six in the final 58 seconds to secure the 54-41 victory.
Maurice Harvey led the Wolverines with 11 points while TJ Stargell and Terrence Edwards both scored 10. Hiram (23-10) got 11 points from Darius Johnson and 10 from Nathan Presnell.
The Wolverines will face a familiar foe in the state championship on Thursday in Macon at the Centreplex as they take on the No. 2 ranked Warner Robins Demons (27-3) who defeated Clarke Central 77-57 at Fort Valley. The two met in the 2014 state championship game won by Miller Grove 70-43 and again in the 2015 quarterfinals won by Warner Robins 63-57 at home.
Tipoff for the state championship game is set for 8:00 pm at the Centreplex.
Miller Grove's trip to the state finals extends DeKalb's streak of having at least one team in the state finals to 17 consecutive seasons (2002-2018). Cross Keys boys (Class 3A champs) and Lakeside (Class 5A runner-up) started the championship game run.
During that time Miller Grove won seven state titles as part of a 13-year run with at least one DeKalb team winning a state title.
That state title streak included 31 state titles with four championships in both 2010 and 2012, three in 2008, 2009, 2013 and 2014 and two in 2011 and 2016.
DCSD STATE TOURNAMENT RESULTS
Class 5A Boys Semifinals at Ft. Valley State
Miller Grove (23-7) 54, Hiram (23-10) 41
DCSD STATE TOURNAMENT RESULTS
Class 5A Boys State Championship at Macon Centreplex
Miller Grove (23-7) vs. Warner Robins (27-3), 8:00 pm