Testingfg of Ads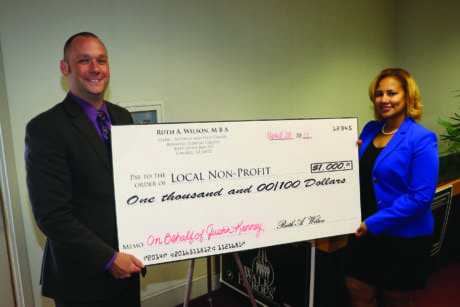 Conyers attorney Justin T. Kenney of Lavigno & Kenney Attorneys at Law was honored recently as the "2016 Volunteer Attorney of the Year" for Rockdale County's Family Law Information Center (FLIC), established by Rockdale Clerk of Courts Ruth A. Wilson.
Kenney received a plaque and a $1,000 check to donate to the charity of his choice. The award and check were presented during a reception on April 28 at the Rockdale County Courthouse atrium. Kenney said he hadn't determined where the money would go but is proud to have served as a volunteer.
"I was born and raised in Rockdale and I enjoy giving back to my community," said Kenney, who has volunteered with FLIC since 2014.
The center provides legal consultation on civil family law matters to those with low to moderate incomes at no charge. Volunteer attorneys provide free, 30-minute consultations at the county courthouse law library every Friday. Many of the questions concern paperwork that must be filed and come from people who often are representing themselves.
Wilson said she established the FLIC after noticing that her office was receiving requests from filers who had questions about court proceedings and didn't know where to go for help. By law, her office could not provide that type of help because it could be considered practicing law, which is prohibited so she established the center on May 18, 2012 to provide assistance.
Consultation topics for the center include adoptions, alimony, child custody and visitation, contempt, divorce, name change, pre-marital and wills to name a few.
Those who would like to meet with a volunteer attorney should visit www.rockdaleclerk.com or call 770-278-7905.