Testingfg of Ads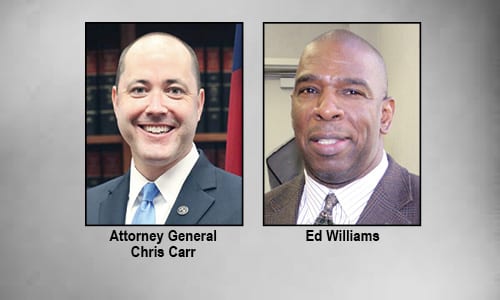 DeKalb community activist Ed Williams said he plans to ask Georgia's Superior Court to rescind the 66 percent pay raise the DeKalb County Board of Commissioners approved for themselves on Feb. 27.
 Williams said he is filing a Writ of Mandamus with superior court following Attorney General Chris Carr's determination that although the board violated the state's open meeting law and approved the raises, it's too late to undo the commissioners' action. 
 "I am going to insist that the DeKalb BOC compensation ordinance 2018-1773  be rescinded," said Williams, who said he also plans to ask the DeKalb County Ethics Board to find the BOC in violation of the open meeting law and their oaths of office. "The Georgia Constitution specifically excludes county governing authorities from being able to increase their compensation."   
In a three-page letter dated June 20, Carr said the commissioners failed to give the public the opportunity to voice support for or opposition to the pay raises before their decision.
Carr stated, however, that the 90-day window to challenge the board's vote has passed and the raises, which are scheduled to become effective in January 2019, cannot be rescinded by the courts. 
Carr said the county prosecutor could pursue criminal or civil action against those who participated in the Feb. 27 meeting. The maximum penalty would be $1,000 per violation, he stated.
 "The actions of the Board of Commissioners in this instance fell short of the obligations imposed by the Open Meetings Act, which are designed to ensure that the public's trust in its elected officials is not misplaced as they carry out the people's business. The citizens of DeKalb County deserve better," Carr wrote.