Testingfg of Ads
If you're visiting Atlanta this spring or summer and health and wellness are a priority while you're traveling, check into the downtown Westin at Peachtree Plaza. You can get a good workout and drift into slumber land on some of the best mattresses and pillows ever.
This hotel is not only great for travelers but also for Atlantans who are looking for a staycation or even a one-day getaway.
The hotel, whose chain, Starwood Hotels & Resorts, was recently acquired by Marriott Hotels, is now offering "Run Westin" on Tuesdays and Thursdays and "Bike Westin" on Wednesdays generally at 6:30 a.m. Led by hotel ambassadors, the guided tours are complimentary for guests.
Beth McKenna, senior vice president at Cookerly Public Relations, said the tours are also available to groups who want to schedule different days and times.
"The bike tours are 8 miles and the run tours or 3 to 5 miles, but they can be shortened to be as leisurely as guests want," said McKenna. "The tours allow guests to see the quintessential sites in downtown Atlanta."
You can also request a map and go on your own.
The brand new exercise offerings are part of Westin's "Six Pillars of Wellness" program. The pillars encourage guests to "feel well," "work well," "move well," "eat well," "play well" and "sleep well."
The hotel is making sure guests sleep well in a pristine environment by providing its Heavenly Bed experience, which features all white linens, down or feather pillows and plush mattresses that have a special coil system to help ensure a good night's rest. If you're traveling with your pooch, you can even request a complimentary Heavenly Dog Bed for Jack or Daisy to enjoy a little luxury. The Heavenly Dog Bed is plush and features grey Westin embroidered branding and signature piping. You'll rest knowing that your pooch is resting well, too. Westin welcomes small and medium-sized dogs. Just let staff members know what you need.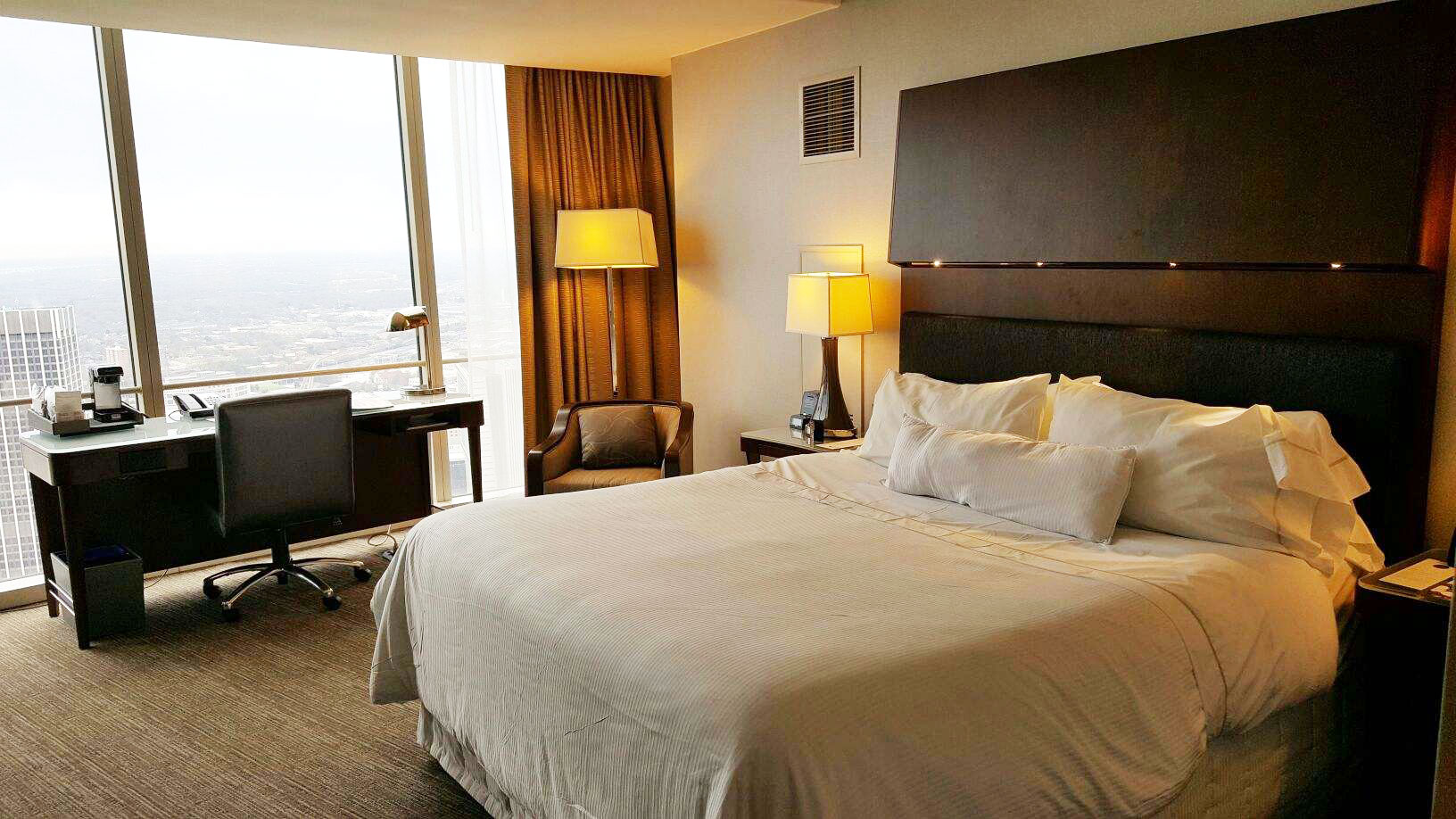 Each room at the hotel also comes with a complimentary balm of soothing essential oils—lavender and chamomile—to enhance rest and relaxation. Roll the balm on your temples or wrists after showering with the hotel's White Tea aloe bath products. One more thing: If you want a snack before bedtime, order from the "sleep well" menu. The special menu offers herbal teas, a turkey avocado wrap, poached egg on asparagus, turkey salad and a granola bar with skim milk, which all are said to enhance sleep.
Although the hotel offers the Heavenly Spa by Westin seven days a week, consider treating yourself to an in-room massage to soothe your senses. The hotel is undergoing some renovations and you should check to see if the spa itself will be open during your visit.
Partnerships with SuperFoodsRx also are enabling the hotel to provide refreshing juices and smoothies and superfood dishes on its other menus. The healthy offerings are available for room service as well as the hotel's rotating Sun Dial restaurant, where you'll find exhilarating, panoramic views of the city's downtown after you arrive on the 72nd floor. The Sun Dial, which has a bar, offers lunch and dinner daily and brunch on the weekends.
In a partnership with New Balance, Westin is making it easier for guests to pack lighter. For $5, the hotel is lending New Balance fitness shoes and workout clothing to guests. The socks are yours to keep. Just call the hotel's guest services or ask a concierge and the gear will be delivered to your room.
For those who must get some work done, you need not worry. Westin has you covered. The hotel's "Work Well" program includes streamlined work stations provide paper, pens, and water to enhance productivity.
201 Peachtree St., N.W., Atlanta. 404-659-1400 Hotel reservations: 886-627-7087.