Testingfg of Ads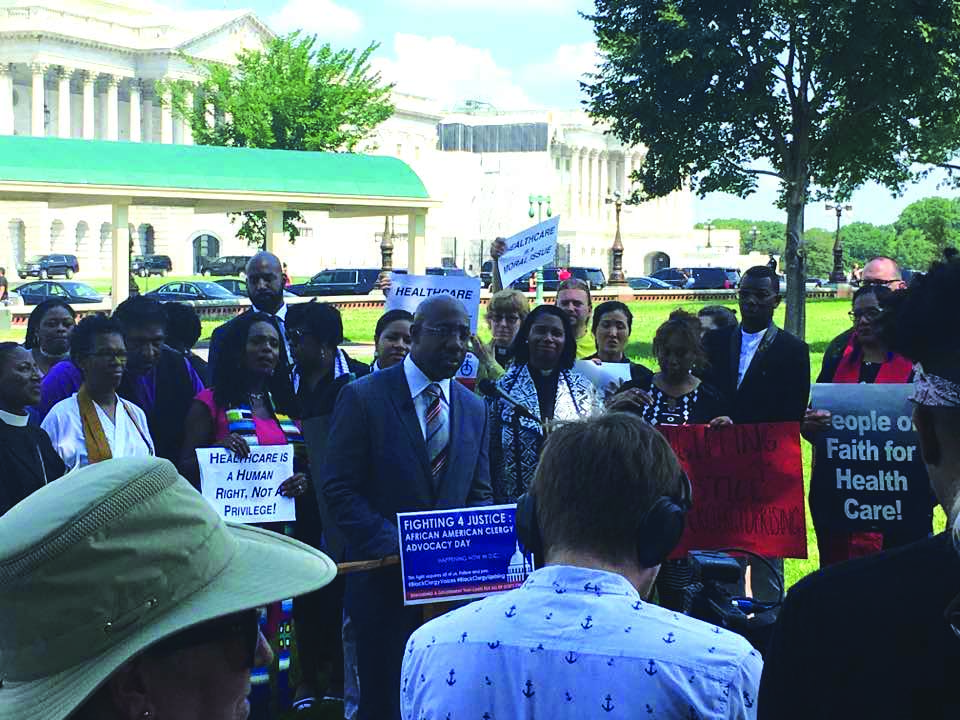 The Rev. Raphael Warnock, pastor of Atlanta's historic Ebenezer Baptist Church, was arrested and released in Washington, D.C. on July 18 after peacefully protesting budget cuts proposed by President Trump.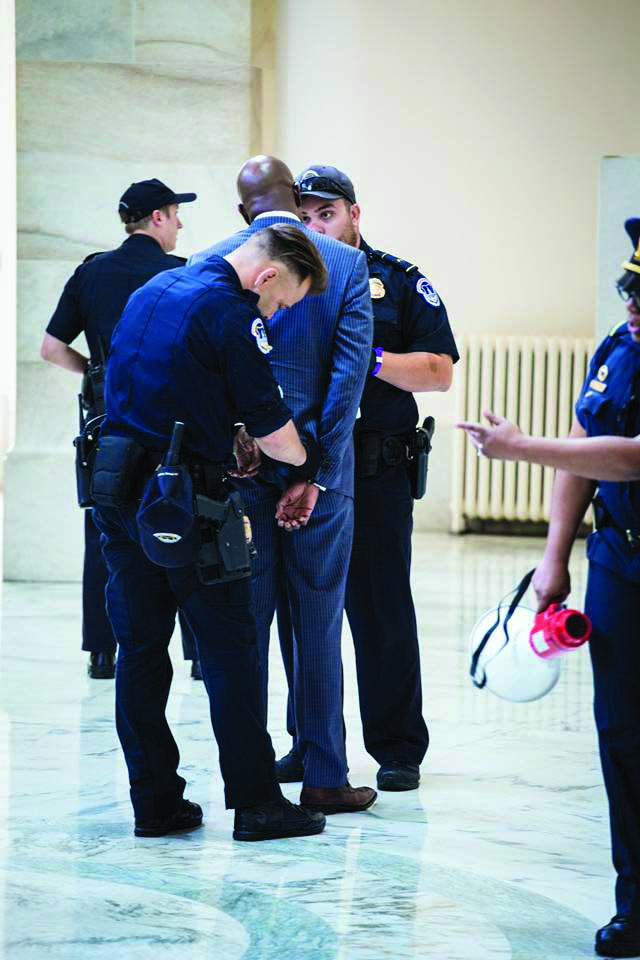 Warnock and the Rev. Cynthia L. Hale, senior pastor of Ray of Hope Christian Church in Decatur, were among a group of clergy who called on Congress to reject President Trump's deep cuts to healthcare, education and other programs, saying the cuts were "immoral" and would negatively impact millions of Americans.
Warnock and others in the group were singing and praying in the rotunda Russell Senate Office Building when they were arrested.
Warnock said his arrest was a "small price to pay" for standing up for the "least of these."
"As a pastor, I believe the national budget is not just a fiscal document but a moral document. It reflects what we believe and who we are for one another. And if this mean spirited budget were an EKG, it would indicate that America has a heart condition," Warnock said in a statement. "The government is taking student aid, job training and medicine from those who need it most in order to give a tax cut to those who need it least. We came to Washington as voices of healing and justice. America is better than this. That's our message. And when I consider those who will suffer, my getting arrested is a small price to pay."
Congressman Hank Johnson, a Democrat who represents the Fourth Congressional District and who also has been at the forefront of the battle, commended the two prominent pastors for standing up for Americans.
"Pastors Warnock and Hale are leaders who understand the devastating effect that repeal of the Affordable Care Act and the passage of the GOP budget proposal will have on the lives of millions of Americans and their families," said Johnson. "I commend their efforts to make their voices heard. We're still in a life-or-death battle for families across America. We will continue to turn up the heat against Republicans' assault on the health and quality of life of children, seniors and working people. I stand willing to work with anyone on responsible legislation to strengthen the Affordable Care Act and pass our budget priorities, but I will not lend my vote to enact laws that give millionaires and billionaires a tax break at the expense of middle income taxpayers and their families."
Johnson recently discussed the proposed cuts during a healthcare town hall panel hosted by State Rep. Doreen Carter at the Lou Walker Senior Center in Lithonia. Speakers on the panel urged the public to contact legislators to oppose the proposed cuts.
Faith leaders also are urging the public to become engaged through a social media campaign calling for Congress to reject the Senate's healthcare proposal using the hashtags #BlackClergyUprising #BlackClergyVoices.