Testingfg of Ads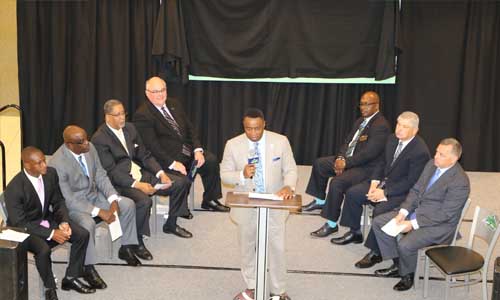 Two weeks after unveiling development plans that include an aquarium, a major sports retailer, virtual golf and a sports bar and grill, Atlanta Sports City at Stonecrest (ASC) is inviting contractors, vendors/suppliers and businesses to learn about opportunities available for the Stonecrest projects. ASC also is seeking requests for proposals for the development of its web platform and mobile app.
Vendors and suppliers are invited to attend information sessions on Nov. 28 or Dec. 7, 11:30 a.m. to 2:30 p.m. Contractors are invited to attend sessions on Nov. 29 or Dec. 13, 10 a.m. to 1 p.m. All of the outreach events will be held at the former Kohl's department store, now known as "Tournament Central." Developers acquired the two-story, 145,000-square-foot building for $2.5 million on Oct. 5.
Vaughn Irons, master developer of the Stonecrest projects, along with ASC, tourism and mall officials, announced the purchase of the Kohl's building, and unveiled anchors for "Tournament Central" on Oct. 20.
Developers plan to put a sporting goods store on the lower level of the former department store, which is located at 8010 Mall Parkway. The top level will have 37 shops, a Top Golf Swing Suite virtual golf center featuring courses from around the world, visitor's welcome center, a 5,000-square-foot ballroom and a tournament lounge with big screen televisions.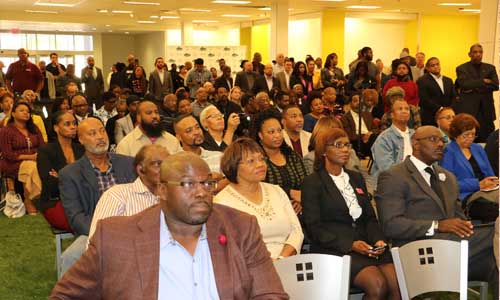 "The atmosphere in and around Stonecrest is abuzz. After announcing first-class national partners Top Golf, MMA Bar & Grill, SeaQuest Aquarium and a major sports retail brand as anchors to the project, we are now offering the same rewarding opportunities to local business owners," Irons said. "Stonecrest is home to many incredibly qualified and talented individuals. We are enthusiastic to meet with each and every one of them and to solidify the best partnerships."
Developers plan to build Stonecrest Landing, an entertainment complex that will include a variety of restaurants, the SeaQuest Aquarium, a 3,500-seat amphitheater and other components.
Earlier this year, developers announced plans for multi-sports fields for soccer and other sports, a 5,000-seat covered stadium as well as the Emory Sports Medicine facility,
The upcoming information sessions about the projects are being held to encourage minority and small business participation in contracts.
Attendees will have a chance to learn about the bid process and the technical assistance that will be provided as well as network and meet the principles of the project.
Patrick Henderson, CEO of Atlanta Sports Connection, said he's looking forward to offering the first round of job programs to suppliers and vendors.
"They will become very important partners of this project. This is the next building block—the next exciting phase," said Henderson.
There is no fee to attend the information sessions, however, vendors and suppliers who are interested in attending must register to attend at atlantasportscity.com.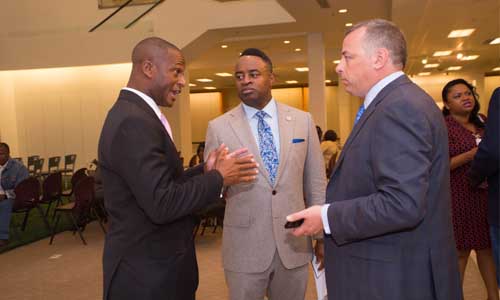 L-R CEO Atlanta Sports Connection Patrick Henderson talks intently about upcoming expansions and job opportunities with CEO Atlanta Partners for Development and  CEO Urban Retail Properties LLC