Testingfg of Ads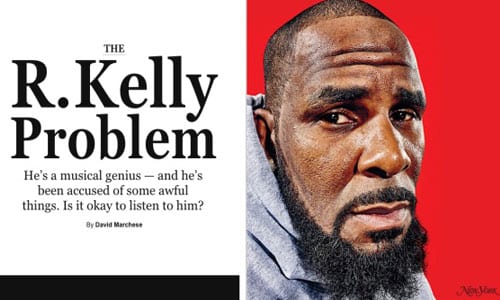 Creative Currents Artist Collaborative is calling for a radio ban on singer R. Kelly's music and his upcoming Aug. 25 performance at Wolf Creek Amphitheater in Atlanta.
Ms. Oronike Odeleye, managing director of Creative Currents Artist Collaborative, started a petition on July 18 after reading the recent Buzzfeed article (http://bzfd.it/2tedbB1) about new "sex cult" allegations against the singer, which state R. Kelly is mentally and sexually abusive of six women who live in his properties in Chicago and Atlanta, and that he dictates what they eat, how they dress, when they bathe, when they sleep, and how they engage in sexual encounters that he records.
"It is frustrating to watch celebrities use their fame and resources as a shield to avoid prosecution for their crimes over and over again," said Odeleye. "There is over 20 years of evidence against R. Kelly.  His numerous child sex abuse crimes are an open secret at this point.  If the courts won't do the work to protect girls and young women from this known sexual predator, then everyday citizens have to step in and do what we can."
In addition to launching an online petition to be delivered to Atlanta-area radio stations, Odeleye sent an email request to Fulton County Board of Commissioners Chairman John Eaves asking that he urge Live Nation to cancel the Aug. 25 R. Kelly concert at the Fulton County-controlled Wolf Creek Amphitheater facility.
"Atlanta and Fulton County," the email reads, "with our own looming sex abuse and sex trafficking problems should take a strong and vocal stand against these crimes and their perpetrators. Wolf Creek Amphitheater and Fulton County should not be vehicles through which R. Kelly can increase his notoriety, gloss over and normalize his behavior, and continue to profit and fund his crimes against women…. As the County's leadership, the Board has an obligation to establish policies that promote the well-being of all county residents. This is particularly true for the vulnerable population of minor girls that live under its purview."
Odeleye's efforts have been noted in a July 17 Atlanta Journal and Constitution article, Why Do People Still Love R. Kelly, And What Does That Say About Us, (http://bit.ly/2uyNUF0). She will be featured this week on the PBS radio program, "On Second Thought."
For more information on the petition, visit: http://bit.ly/2uBASr1