Testingfg of Ads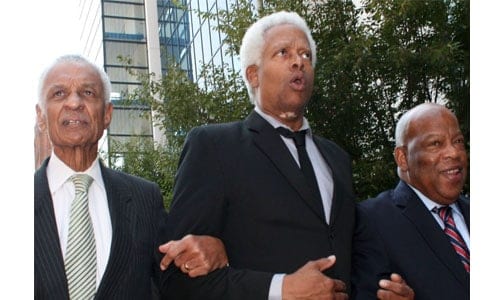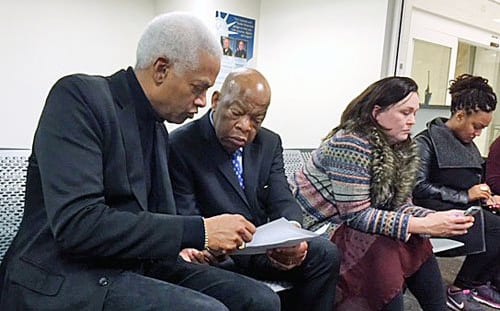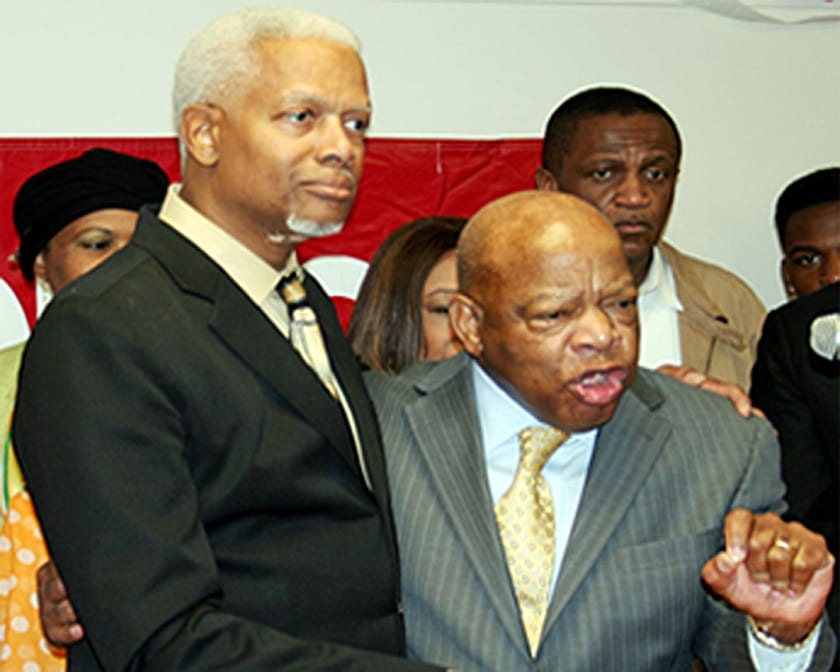 Pictured left to right: C.T. Vivian, Congressman Hank Johnson  and Congressman Johnson during a 2012 voting rights  march in Atlanta. Photos provided via Johnson's office. 
New Birth to host virtual memorial for Congressman Lewis and the Rev. C.T. Vivian
By Valerie J. Morgan  
Atlanta is flying its flags throughout the city at half-staff in honor of Congressman John Lewis, civil rights icon, a national treasure, and a beloved hero who represented Georgia's 5th District for 34 years.
Lewis died Friday, July 17, after a courageous battle with stage IV pancreatic cancer, which he learned about after a routine medical visit in December 2019. He was 80 years old.
"I have been in some kind of fight – for freedom, equality, basic human rights – for nearly my entire life," Lewis said in a statement announcing that he had cancer. "I have never faced a fight quite like the one I have now."
After learning of Lewis' death, Mayor Bottoms immediately ordered flags lowered on all City of Atlanta facilities until further notice.
This morning(July 18), President Donald Trump ordered the White House flag at half-staff in honor of Lewis' death and House Speaker Nancy Peolosi ordered flags at the Capitol be lowered. Trump offered a short tweet in memory of Lewis, with whom had a rocky relationship.
"Saddened to hear the news of civil rights hero John Lewis passing. Melania and I send our prayers to he and his family," Trump tweeted on behalf of himself and the First Lady around 2 p.m.
Former President Barack Obama, who presented Lewis the 2010 Medal of Freedom, the highest honor presented to civilians, remembered his friend in a lengthy tribute:
"In so many ways, John's life was exceptional. But he never believed that what he did was more than any citizen of this this country might do," Obama wrote in part. "…He loved this country so much that he risked his life and his blood so that it might live up to its promise. And through the decades, he not only gave all of himself to the cause of freedom and justice, but inspired generations that followed to try to live up to his example."
Mayor Bottoms acknowledged Lewis' long political career, which began as a member of the Atlanta City Council and his re-election 16 times to the U.S. House of Representatives from Georgia's 5th Congressional District, where he became known as the conscience of the U.S. Congress.
"There are no words to describe the tremendous loss that Americans, Atlantans, and I personally feel upon learning of the passing of Congressman John Lewis," Bottoms said in a statement. "America knew him as a Civil Rights Icon, Congressional Giant, and a moral compass, but I knew him as a friend. The people of Atlanta often called upon Congressman Lewis for counsel, guidance, and assistance with getting into good trouble. No matter how busy his schedule, or important his Washington duties were, he answered. We were privileged to be represented by a leader with both a pure heart and an unshakable commitment to human rights. As we persevere in the modern fight for social justice, we should honor his legacy by continuing to hold on to hope. I pray for his family, his constituents, and all who loved and were impacted by the life of Congressman John Lewis."
House Speaker Nancy Pelosi said of Lewis' passing:
"Today, America mourns the loss of one of the greatest heroes of American history: Congressman John Lewis, the Conscience of the Congress.
"John Lewis was a titan of the civil rights movement whose goodness, faith and bravery transformed our nation – from the determination with which he met discrimination at lunch counters and on Freedom Rides, to the courage he showed as a young man facing down violence and death on Edmund Pettus Bridge, to the m moral leadership he brought to the Congress for more than 30 years."
Rep. Hank Johnson, a Democrat who represents Georgia's Fourth Congressional District and lives in DeKalb County, remembered Lewis not only as a civil rights giant, but as a colleague and friend.
"Rep. John Lewis was a giant of a man. Never angry or puffed up with self-importance, he was a humble servant who loved humanity. And we loved him back. Thank you, John Lewis, for your contribution to the cause of love and peace. I will follow your example," Congressman Johnson said in a statement.
Also in DeKalb County, where the John R. Lewis Elementary School was built in honor of the civil rights legend in 2018, DeKalb CEO Michael Thurmond called Lewis' death the ultimate passing of his torch for social justice.
"I am saddened at the loss of the legendary Congressman John Lewis. John breathed hope and life into people and ideas that to many seemed hopeless," Thurmond said in a statement.
"His transition during this time of civil unrest and a global shift in the demand for social justice is symbolic and a message to us all. Let his death be the ultimate passing of the torch that we all must carry toward a just, fair, and more perfect union. A true man of the people. We are all better for having known him. Rest well, my friend."
Atlanta and the nation also are mourning the loss of civil rights leader of the Reve. C.T. Vivian, who worked closely with Dr. Martin Luther King, Jr. Vivian also died on July 17. He was 95.
New Birth Missionary Baptist Church will hold a virtual memorial service  this evening(July 18) to honor the lives of Lewis and Vivian.
The online service, led by New Birth's senior pastor, Dr. Jamal Bryant, begins at 6:30 p.m. and will be streamed live on New Birth's and Bryant's social media platforms.
The tribute will feature music, prayer, and a special message from Bryant.
"America is a better and more just nation because of the lives and legacies of Rev. C.T. Vivian and Congressman John Lewis," said Bryant. "We are compelled to continue carrying the torch in honor of these great titans of the civil rights movement."
Congressional Black Caucus and others mourn the loss of Congressman John Lewis