Testingfg of Ads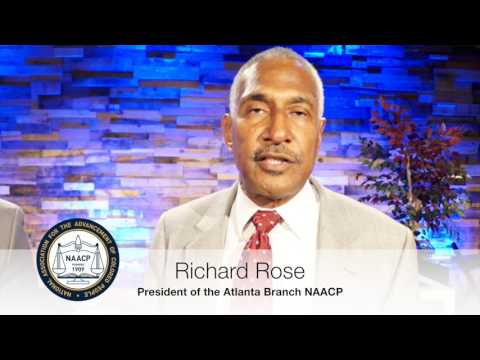 The Atlanta branch of the NAACP is calling for an investigation into the history of inequality in the criminal justice system in the Glynn and Waycross, Georgia circuits.
The civil rights organization said the shooting death of Ahmaud Arbery, an unharmed black jogger who was gunned down by a white son and father in Brunswick, Georgia, has re-ignited the outcry over the longstanding pattern of black men being killed by rogue vigilantes.
The Atlanta NAACP is set to hold a press conference on Tuesday, May 19, 10:30 a.m., at 1147 Calhoun Ave., Atlanta.
"We intend to examine the prosecutions of black defendants and the handling of the complaints of black victims for the past 20 years," said Richard Rose, president of the Atlanta NAACP.
The history of extrajudicial killings of unarmed black men has deep roots throughout the South but also happens in other regions of the country, where far too often, the perpetrators face no consequences. We expect that investigations of these judicial circuits will produce data that can guide lawmakers to take steps that will end this disparate treatment of African Americans at the hands of law enforcement officers and their copycats."
Arbery's death puts in him in a long line of recent high profile murders across the United States that include Trayvon Martin, Tamir Rice, Eric Garner, Michael Brown, Philando Castile, Walter Scott, executed by white police officers or vigilantes, the Atlanta NAACP said in a statement.
In the Arbery case, the February arrests of the two suspects—Travis McMichael, 34, and Gregory McMichael, 64,– took over two months and came after the release of a video of the murder went viral. A local prosecutor, who had told police not to arrest the father and son, declined to press charges. Gregory McMichael reportedly worked for the prosecutor and has extensive connections to local law enforcement.
Arbery was jogging through a white neighborhood when he was ambushed by the McMichaels. The McMichaels reportedly told law enforcement that Arbery was suspected of breaking into homes in a local neighborhood. A video recording of a home under construction in the neighborhood, however, has revealed that Arbery walked through the construction site, as did other people, but never took anything. Arbery was reportedly chased by the McMichaels and shot to death after he left the construction site.  The owner of the home that was under construction confirmed that Arbery never touched anything and has condemned those suggesting otherwise.
The Atlanta NAACP said speakers at the press conference include:
Attorney Gerald Griggs, Second Vice President Atlanta NAACP
Vic Reynolds, Director Georgia Bureau of Investigations
District Attorney Joyette Holmes, Cobb County
Rev. Timothy McDonald, Past President of Concerned     Black Clergy