Testingfg of Ads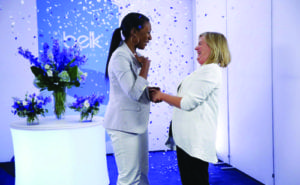 Atlanta designer Donna King has what it takes when it comes to fashionable business sense. King, the CEO and chief designer for P. Sherrod & Co., recently won the 2016 Belk Southern Designer Showcase Contest, landing her a coveted spot as a vendor for retail department store giant Belk.
"Oh my gosh, I was super surprised! I know you're supposed to think all that positive, law-of-attraction stuff, but who really thinks, 'I'm going to win'?" said King.
A native of Jersey City, New Jersey, King embraces Southern living and the "Southern Girl" title she has earned since moving to Atlanta to attend Clark Atlanta University, where she obtained her MBA, and where she got involved in the community as a member of the Stone Mountain-Lithonia Alumni Chapter for Delta Sigma Theta.
In 2009, King founded P. Sherrod & Co., a lifestyle brand offering fashionable, classically styled, fine leather handbags & accessories.
King said she applied for the Belk showcase contest after a friend sent her the information and encouraged her.
After presenting their designs to a panel of Belk executives and buyers at the company's headquarters in Charlotte, N.C. on May 19, four winners were selected out of 300 applicants.
"I was so excited! I didn't realize they were going to tell us that same day," said King.
Belk's Southern Designer Showcase features designers from across the South who specialize in Southern style in the categories of women, men and kid's apparel, shoes and women's accessories. Contestants must be at least 18 years of age and live in the South or have a strong affiliation with the Southern region.
"I design for a very specific woman – she's modern, busy and she likes to be stylish, but she needs function," said King.
King said she was inspired to get into design while vacationing in South America several years ago. Moved by the beautiful, bold and supple leather found in Colombia, King met with a small family-owned manufacturing company and the rest is history.
"I've always had an entrepreneurial spirit and a love for fashion," said King.
Prior to founding P. Sherrod & Co., King worked as a consultant for IBM.
"I learned a lot from working in corporate, but Information Technology is really robotic work and I was traveling all the time," King said. "I've always been creative and designing was a release outside of work."
King said that while owning her own business has been deeply rewarding, it has its challenges.
"I had so many NOs in the beginning, but I kept pushing through because I felt like I was going to get a yes. People liked the bags and I felt like I offered something different to the market," King said. "Everybody has a Kate Spade or Michael Kors, but P. Sherrod & Co. offers quality, authentic leather carefully crafted by a local designer without the astronomical price tag."
King said that having a foreign manufacturer also presents distance and communication barriers.
"I've been taking Spanish classes to improve my Spanish and I try to take a trip at least once a year to touch basis with the manufacturer," King said.
"After leaving corporate, I learned it's all about time and place and being available for opportunity. I'm not 25, but you have to never give up on your dreams. What God has for you is for you," said King.
P. Sherrod & Co. can be found in boutiques all across metro Atlanta as well as Charlotte, N.C. and Florida. Find the entire collection at www.psherrod.com.