Testingfg of Ads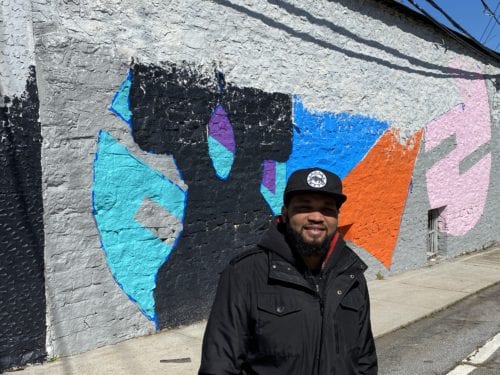 Steve Paul, owner of the Lithonia Arts Center, has clashed with city officials over a mural that an army of volunteers helped to paint on the exterior of his building to express unity and welcome visitors to the city.
Paul received a nuisance citation from the city on Feb. 15 stipulating that he had until Feb. 26 to get a permit for the mural or face fines, jail or community service. Paul received the citation a month after about 200 volunteers, organized by the Stone Mountain-Lithonia Graduate Chapter of Alpha Kappa Alpha Sorority, came out to paint the mural at 7268 Center Street on the Martin Luther King, Jr. Holiday.
Paul, who opened the Lithonia Arts Center on Oct. 15, 2019, said he thought he was doing something positive by displaying the mural. He said that the sorority provided funding for the project. Aidra N. Martin, president of the chapter, said the group's donation totaled $3,800 and she is hoping Paul and the city can resolve the issue.
Martin said she and representatives from the sorority are planning to attend the Lithonia City Council meeting so that they can get clarity on the matter.
"It was an investment in the community. We just wanted to promote the arts and do something positive to support black art and artists," said Martin. "It was a community service project for the King holiday."
City Administrator LaThaydra Sands said the city has tried to work with Paul and it welcomes artistic expression as long as businesses abide by Lithonia's ordinances.  She said Paul should have obtained a permit for the mural before the work was done, but now that the mural is up, the city is willing to allow mural provided that he obtains the permit and pays late fees since he missed the Feb. 26 deadline.
"We have told him that he needs a permit for the mural. We don't have a problem with murals. We have murals in the city's downtown. A mural is defined as a wall sign under our ordinances and a permit is required for them," said Sands, who provided On Common Ground Newswith a 23-page document spelling out the city's sign ordinance.
Paul said he has collected 100 signatures on petition challenging the city's definition of a mural. He said he does not believe that he is in violation.
"A mural is not a sign. They're just doing this to harass me," Paul said.
The Lithonia City Council meets on March 2, at 7 p.m., at City Hall, 6920 Main St., Lithonia.