Testingfg of Ads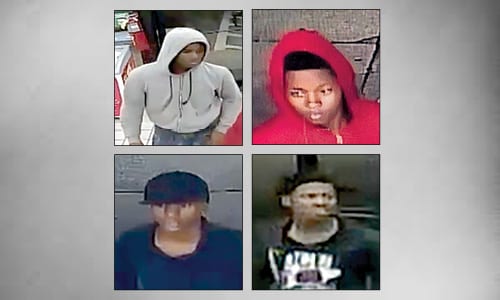 By Valerie J. Morgan  
Conyers Police are looking for a group of armed men, believed to be teens, who brazenly burglarized 18 cars in two neighborhoods before leading police on a high-speed chase onto I-20. 
Police said the group of suspects, about eight of them, broke into several cars during early morning in the Travers Creek and Windsor Creek communities as residents slept on July 18. The suspects walked from car to car, checking for unlocked doors and then breaking into locked cars, stealing various items.
 One victim, Diane Strauss, said she dialed 911 after hearing her car alarm go off and peeking through a window and seeing the thieves breaking into her car and others. She said one of the suspects pointed an AK-47 pistol at her. 
Police arrived immediately after the 911 call and pursued the suspects as they sped through the Travers Creek community in two cars onto Sigman Road. Some of the suspects jumped out of one of the vehicles, and ran to the second vehicle. As police caught up with the vehicle and did a pit maneuver, the teens' car crashed into a median but kept going. The suspects then sped away in the crashed vehicle onto I-20, eluding police. 
"We ended the chase for the safety of other drivers who were on I-20," said Conyers Police Captain Jackie Dunn.            
Dunn said officers recovered several wallets, IDs and a stolen AK-47 pistol from the vehicle the suspects abandoned. Dunn said one of the vehicles the teen used during the burglary spree was stolen out of Atlanta. The other vehicle, which was recovered by DeKalb County Police, was stolen from Chamblee.  
Dunn said the suspects are extremely dangerous. 
"These aren't the usual pranks that teens pull. They are endangering the lives of others. They have guns," said Dunn. 
Dunn said the problem with teens carrying guns to commit crimes is growing.      
"We're seeing juveniles on almost a daily basis and they have guns. We see them over and over again. The justice system keeps putting them back out there," said Dunn. 
Travers Creek experienced a rash of car burglaries last year and two teens were arrested after they were found trespassing at Towers High School in DeKalb County. 
Jontavious Clark, 17, and a 16-year-old juvenile were found in a vehicle stolen out of Conyers. They also allegedly were found in possession of items stolen from over a dozen vehicles in the Calloway Crossing and Travers Creek neighborhoods in Conyers.
Dunn said surveillance video from a Texaco gas station captured several of the suspects in the July 18 burglaries on camera around 4:13 a.m. when the teens stopped for gas.  The 911 call from Travers Creek came in about 4:40 a.m. 
Anyone with information on the suspects is asked to contact Conyers Police or Crime Stoppers at 404-577-TIPS. Tipsters can receive a reward up to $2,000 for information leading to an arrest.