Testingfg of Ads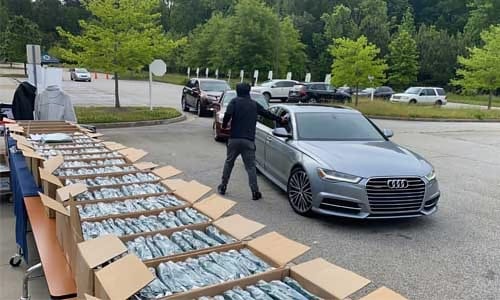 STONECREST—Not even the overcast skies could dampen the excitement at Arabia Mountain Heritage High School today. As graduating seniors picked up their caps and gowns during a drive-through setup in the school's parking lot, music filled the air as overjoyed students cheered. The Class of 2020 was determined the COVID-19 pandemic would not cheat them out of the celebration that they had spent 12 years earning. Principal Tanya Mason congratulated seniors as she helped to give the students their caps and gowns.
The festivities were part of the DeKalb County School District's Senior Week, where yearbooks, caps and gowns and other items were distributed. Virtual activities are planned due to COVID-19 social distancing orders by state officials.
Friday, May 15, is the date of record for the end-of-the 2019-2020 school year for the DeKalb County School District.
Seniors will receive high school diplomas on May 21, from their high schools, according to plans devised by their principals to adhere to social distancing guidance from the DeKalb Board of Health, Georgia Department of Public Health, and Centers for Disease Control and Prevention.