Testingfg of Ads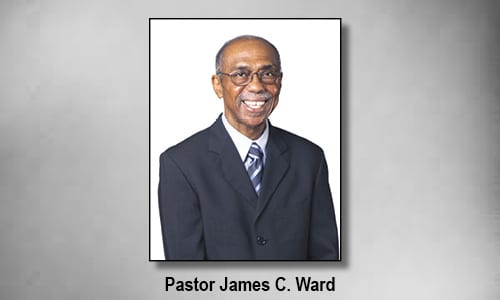 Pastor James C. Ward of Antioch-Lithonia Missionary Baptist Church in Lithonia is being honored again as an accomplished  songwriter. His latest work entitled "Nothin' But Glory" has won an Editor's Choice Award after being published by Shawnee Press, a division of Hal Leonard, one of the largest sheet music publishers in the world.
"This is truly a blessing from God and is only a reality because of His favor," said Ward. "It is truly an honor. It speaks to all of the people who helped me all along the way. Getting published is like getting a record contract. There are many talented people, but because of many factors, such as timing and song similarities, who do not get published. So I do not take this blessing lightly."
A team of musicians and others determined the Editor's Choice winners based on music standards—from the uniqueness of the melody to the composition of the words and music. Pastor Ward said "Nothin But Glory" won in the Glee/Broadway category.
"They looked at 21,000 songwriters—from classical to Broadway shows—and only 100 people were selected. I was in that 100," Pastor Ward said.  
The Editor's Choice Award is the second achievement the South DeKalb pastor has earned as a composer. In 2017, he was inducted into the Best Sellers' Club after selling more than 100,000 copies of sheet music he composed. 
Pastor Ward collaborated with the esteemed Victor Johnson to compose an original spiritual, "King Jesus Is Alive," which had sold more than 50,000 copies at the time, and he worked with the celebrated Heather Sorenson to compose the neoclassical, "O Sing Unto the Lord," which sold 50,000 copies.
The James C. Ward Chorale performed "Nothin' But Glory" during the Christmas season in 2015 and the song has since become one of Hal Leonard's best-selling pieces.
"Heather Sorenson arranged the song for me," said Ward. We have worked together on several projects. We are now working on a composition to celebrate Antioch-Lithonia's 150-year anniversary in 2019. The inaugural performance will be at Antioch on March 31, 2019."
Pastor Ward said the song celebrating the church's 150-year anniversary also would be published by Hal Leonard.
"This will be a great worship service because we will have one of the most gifted musicians, Heather Sorenson, in our midst.  More importantly, we will thank God for our congregational ancestors who have gone before us and have sustained and advanced our congregation. We look forward to this day with great anticipation," said Pastor Ward. 
Pastor Ward credits the late Wendell P. Whalum, who was director of the music department and the Glee Club at Morehouse College, with cultivating his interest in music.
"Morehouse really validated me. He (Whalum) said that I should have majored in music," said Pastor Ward, who sang in the Glee Club and holds double bachelor's degrees—one in philosophy and one in German literature –from Morehouse College. 
Pastor Ward's background in music is reflected in the  music culture at Antioch-Lithonia Missionary Baptist Church.
"We enjoy all types of music—traditional gospel, contemporary, classical and even gospel rap music."   
Antioch-Lithonia Missionary Baptist Church is located at 2152 Rock Chapel Road (State Road 124), Lithonia.